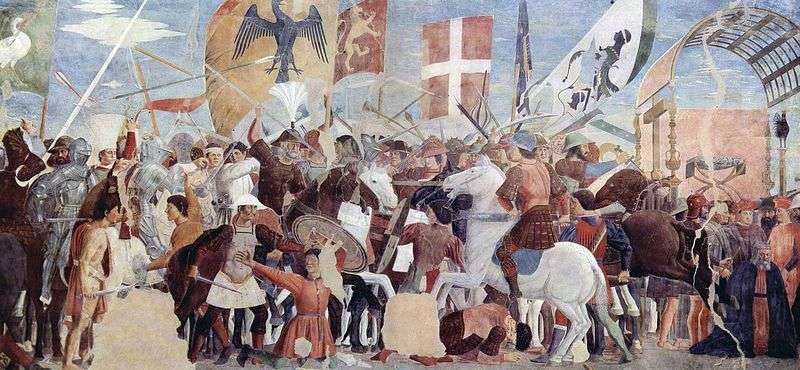 Frescoes from Arezzo Frescoes of the cycle "Cross of Faith" in the church of San Francesco in Arezzo are the most ambitious and famous work of Piero della Francesca. The master worked on them for a whole decade. At that time the history of finding the Cross of the Lord was very popular, and it was depicted – in many churches dedicated to the memory of St. Francis.
This connection between St. Francis and the Cross of the Lord existed in the Renaissance, because in 1362 it was the Franciscan monks who became the "official custodians" of the holy places for Christians in Jerusalem, and some of them, moreover, found their place in the legends dedicated to the acquisition Cross of Faith. According to these legends, the Cross of Faith was made from the tree of knowledge of good and evil, the forbidden fruit of which caused the expulsion of Adam and Eve from paradise, and the history of the Cross can be traced in ancient sources until the 7th century BC.
In the interest of composition, Pierrot arranged scenes from the history of finding the Cross of Faith, not in chronological order, but in an arbitrary order. Here you see three murals from this cycle: "Battle of Hercules with Khozroi", "Vision of Constantine" and "Death of Adam".