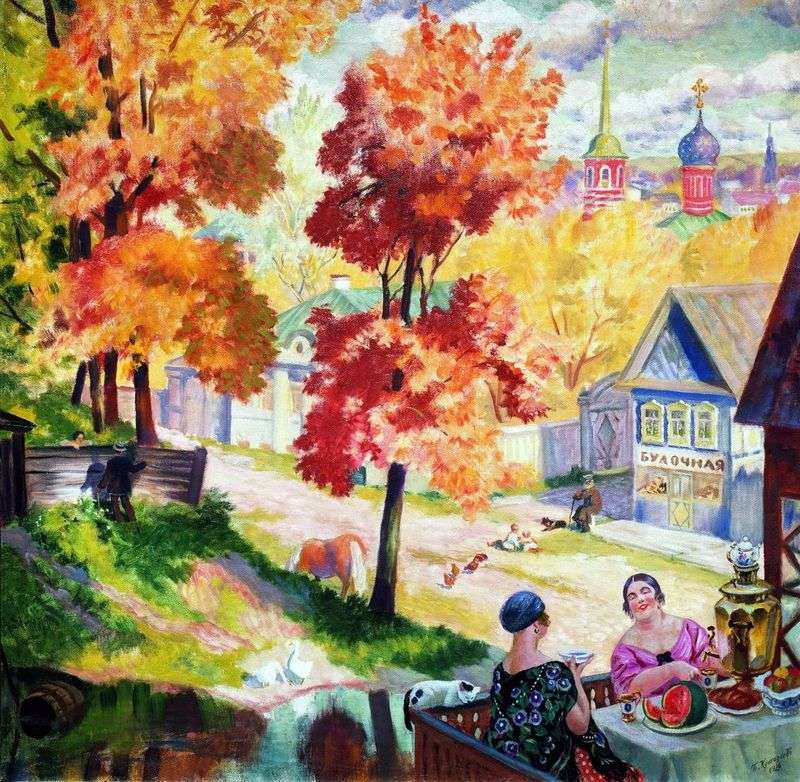 Boris Mikhailovich Kustodiev – a wonderful master of color, rich, bright colors and color. The artist's work is distinguished by an individual, characteristic only for him sense of tone. In this sense, the canvas by B. M. Kustodiev "Autumn in the Province. Tea Drinking" is remarkable. The picture was painted in 1926 and today the canvas is exhibited in the State Tretyakov Gallery.
Kustodiev's canvas is dedicated to depicting the peaceful, unhurried life of a merchant family, a well-fed, contented life of merchants. This life is rich, idle, filled with bright ornaments of elegant artfully woven scarves, clothes. "Autumn in the province. Tea drinking" is painted in oils, but the canvas creates the effect of watercolor sketching. Contrast paint smudges resemble semi-obvious watercolor stains. Colors only unusual for watercolor bright, ringing, sharp-toned, strongly emphasizing the audience's attention to themselves, sharpening perception, increasing the emotion of heat from the autumn colors, the passing days of summer heat. In the foreground of the picture is a tea party scene.
Two merchants, discharged, flushed, satisfied drink their tea slowly. One of the merchants pours hot tea from the samovar and smiles warmly with half-closed eyes from the pleasure of sincere conversation. The atmosphere of a special merchant life, wealth and wealth is read in everything: in the lush outfits of the merchants, and in the feast generously decorated for tea drinking. The average, basic plan is written out in less detail, conditionally. The main thing is color, a special space of a provincial town where harnessed carriages rarely pass, geese and chickens freely walk, children play, and the bakery and other groceries slowly carry on their quiet trade, allowing merchants to flourish and richer. The distant plan already traditionally represents an image of a church against the sky, covered with autumn dense clouds. Only blue-lilac subtle shadows highlight the contours of the clouds. The space of the sky is shown fragmentary, a kind of framed in bright, burning autumn foliage. The red, yellow, fiery-red colors of tree crowns, despite the autumnal mood, the gradual extinction of summer multi-colored days, are exactly the statement of the beauty of life in all its abundant, multiple images.
Boris Mikhailovich Kustodiev shows how beautiful life is. Life is ordinary, along with its daily worries and troubles, when time seemed to freeze, fell asleep in this dream-like world of a calm, life deprived of all sorts of upheavals of a Russian province of a distant past irrevocable era.