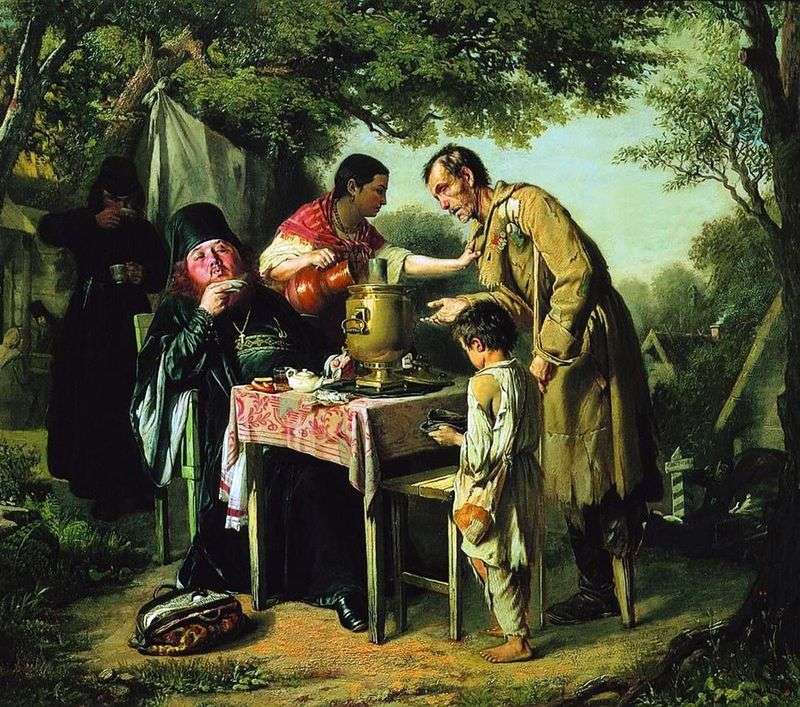 A few centuries ago, modern Vasily Perov Mytischi was famous for the delicious crystal clear water of its springs. Here, Ekaterina II herself was able to quench her thirst, which liked the local water so much that the empress even issued a decree on the construction of Mytishchi-Moscow water supply. In general, drinking tea in Mytishchi was considered good form.
Meanwhile, the picture of V. Perov does not glorify lovers of such tea drinking at all. The artist has repeatedly met the important monks smugly drinking tea, torn beggars and cripples, who were chased away by maidservants from the estates. The master, in his work, first of all sought to describe the real life, expose and ridicule the vices, rooted in the Russian society of the XIX century. The result of painstaking work was the painting "Tea drinking in Mytishchi, near Moscow."
The viewer overlooks the shady corner of the garden. Here, sitting at a table with a patterned tablecloth, the tea is an important connoisseurous monk sipping from a saucer. The hot samovar shines in the sun with a shine, a beautiful tea pot is ready to give a dear guest another cup of an aromatic drink at any moment, crackers and other tea dishes are waiting for their time. Around the monk, trying to please him, a girl is hustling. And so, when a one-legged blind cripple veteran with his barefoot guide boy comes to the priest's table, the hostess casually pushes the beggar away so that he does not interfere with the monk's meal.
The ugly side of real life is reflected on the canvas. Those who are predestinated from above to show mercy, love of neighbor and benevolence, in fact turn out to be callous, caring only for their own good and pleasure. The well-fed broad-faced monk is not in a hurry to give alms, and he continues to sip tea without fail, enjoying the rest and attention of the hostess, who is also indifferent to other people's misfortunes and weaknesses. They do not hasten to comfort the beggar and two other priests. One is busy talking with an elderly woman, the second – sipping tea. And the hand of the cripple, stretched out in the begging gesture, does not find support and support.
The picture, executed in a gray-brown scale, with a photographically accurate drawing of gestures, facial expressions and postures of the characters, with an accusatory topical plot, made an indelible impression on the thinking contemporaries and made V. Perov a famous satirist-genre painter.