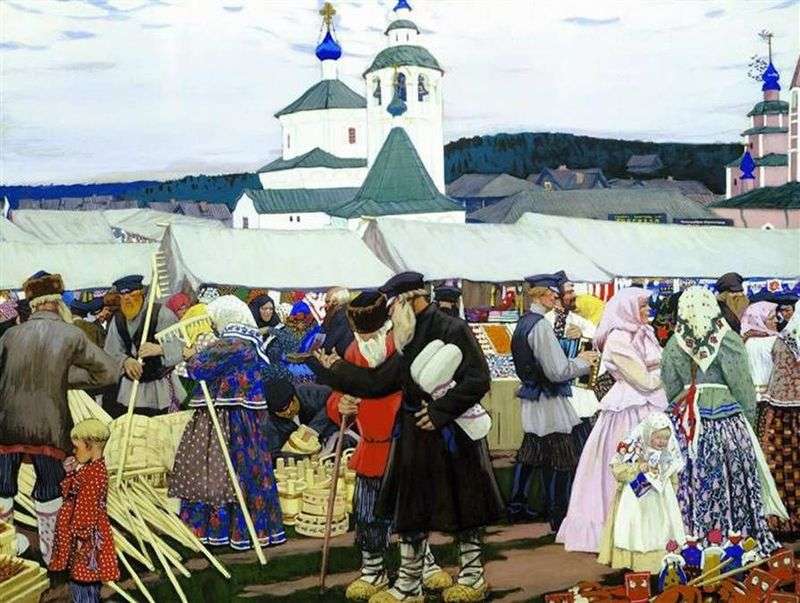 Fair in Russia – it is always a holiday for all villagers. At fairs they bought and sold, communicated, played, had fun. Boris Kustodiyev depicted such a fair in his film.
The artist did not show the faces of the fair participants: they are perceived as one. In the eyes dazzles from flickering festive clothes: elegant dresses of women, bright scarves, new bast shoes and men's caftans.
In the foreground, Kustodiyev portrayed two elderly men who are arguing furiously something: maybe they are bargaining about something, maybe they are discussing previous fairs. Nearby is a boy who chews sugar and a girl holding a new doll in her hands. Two women stand near the counter and discuss the goods, others try on patterned headscarves.
In another part of the picture, buyers choose the necessary things in the household: shovels, rakes, buckets. It is noticeable how a woman bargains with the seller.
Nearby young guys want to buy some musical instrument. Most attracted to their harmonica – they feel its sound.
Bright colors, vigorous activity – the fair boils, has fun, advises, bargains, discusses goods and the latest news.
In the background of the picture, Boris Kustodiev depicted the village. It is executed completely in different colors – gray houses, gray low sky. After the end of the fair day, people will have to return to everyday gray life and look forward to a bright new fair.