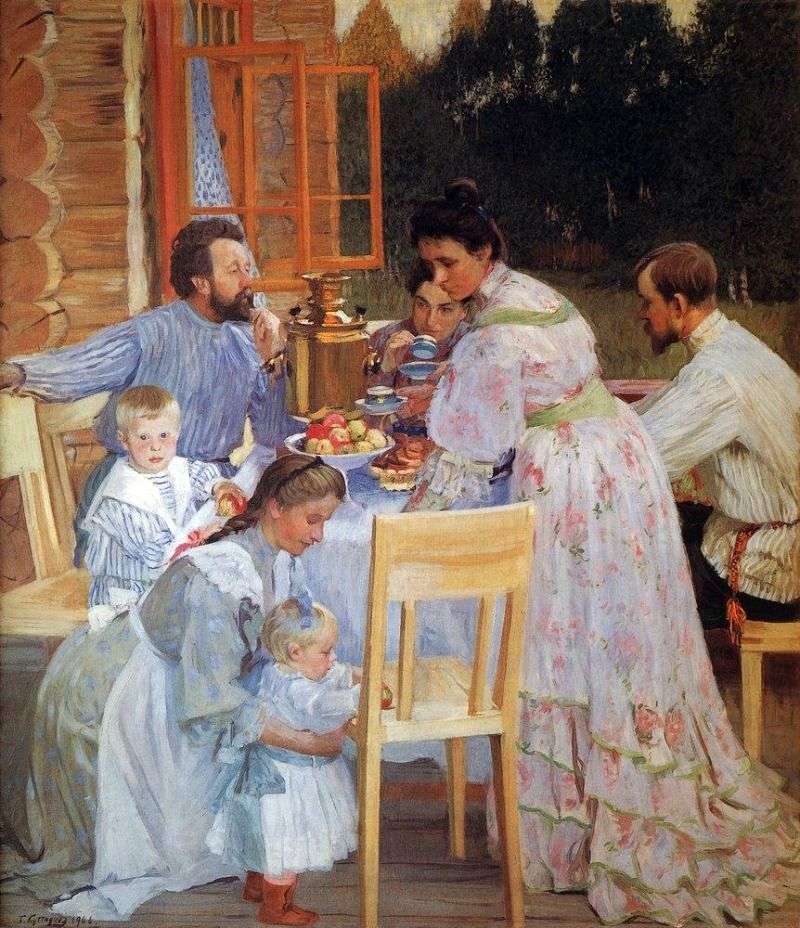 The name of this artist is well known to those who appreciate painting. He unusually conveys images that later make you think about eternal human problems and values, as well as about life. But the picture "on the terrace" gives us a different mood, it gives us vitality.
The canvas depicts a family, the artist's family, his wife and children, as well as a sister with her husband and a nanny. In the image of the house, I can assume that it is newly built. Birch trees grow around and very few plants are planted. The background of the picture fills the forest, and it seems to me that this house was built in the forest. The whole family gathered on the terrace. Coziness reigns there, a warm homely atmosphere, typical of aristocratic families, is very characteristic of that time. The family has a breakfast on the terrace, tea in the open air.
Very finely, the artist showed love for his family, the picture depicts children. Son carefully looks at the artist. He is fascinated by the action of his father, and he looks at him with curiosity. Kustodiev's daughter under the supervision of a nanny, but she is not interested in what happens in the circle, she was given an apple. My attention was attracted by the girl's outfit, it seemed festive to me. HER bow that fits the color of a wide belt, very harmoniously decorates her hair. The nanny with trepidation and care is watching every movement of the girl.
The artist's wife pours tea and as if invites us to sit down with them at the table. She lovingly looks at her daughter. The artist depicted himself pensive. Husband sister dreamed and looks into the distance. Sister, meanwhile, is watching over her nephew. At first glance, considering each character separately, you might think that everyone is busy with his own business, but the family atmosphere that enveloped the picture dispels these thoughts. The artist in his picture tries to tell us that there is nothing more important in the world than the warmth of the home, where you can go back at any moment. He shows us that family is for him the most valuable thing in a person's life.