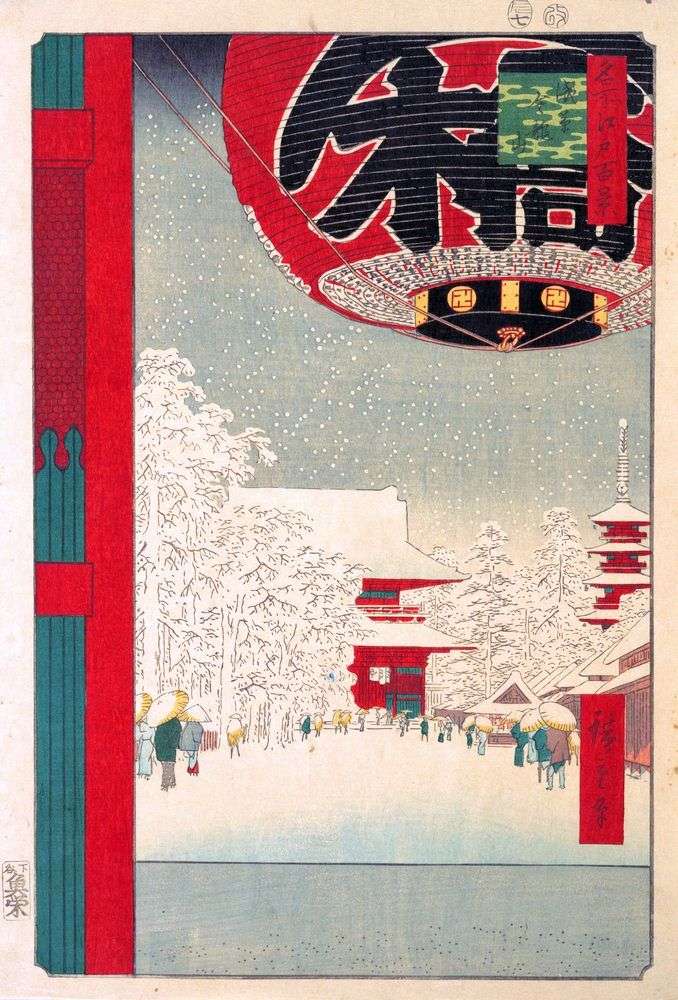 Engraving, opening the "winter season" is dedicated to the monastery of Kinryudzan, its other name is Sansoji. This monastery is one of the three oldest and most significant centers of Buddhism in Edo. In the foreground on the left is the edge of the Kaminarimon gates. In the niches, on both sides of the gate were installed statues of the God of the Wind and the God of Thunder, so the gate was also called "Furaylzin mon" – "Gate of the Gods of Wind and Thunder". They were installed in front of the monastery itself.
The opening of the gate is occupied by an image of a large paper lantern with the inscription "Sinbasi" – this is the name of the area where the believers who presented the lantern lived. On the right is a five-story pagoda. Next to her in the center of the sheet is another gate – Nyomon. In the niches of this gate were also sculptures of guardians-guardians of the monastery – Nio. Behind the gate was the main temple dedicated to the Bodhisattva Kannon, he is not visible in the engraving.
The majestic buildings of the monastery, covered with snow, are the main motif of engraving. The most striking difference between the late version of the printing is the color of the huge lantern in the foreground of the engraving, it turns red and blends superbly with the red walls of the pagoda and the entrance gate.