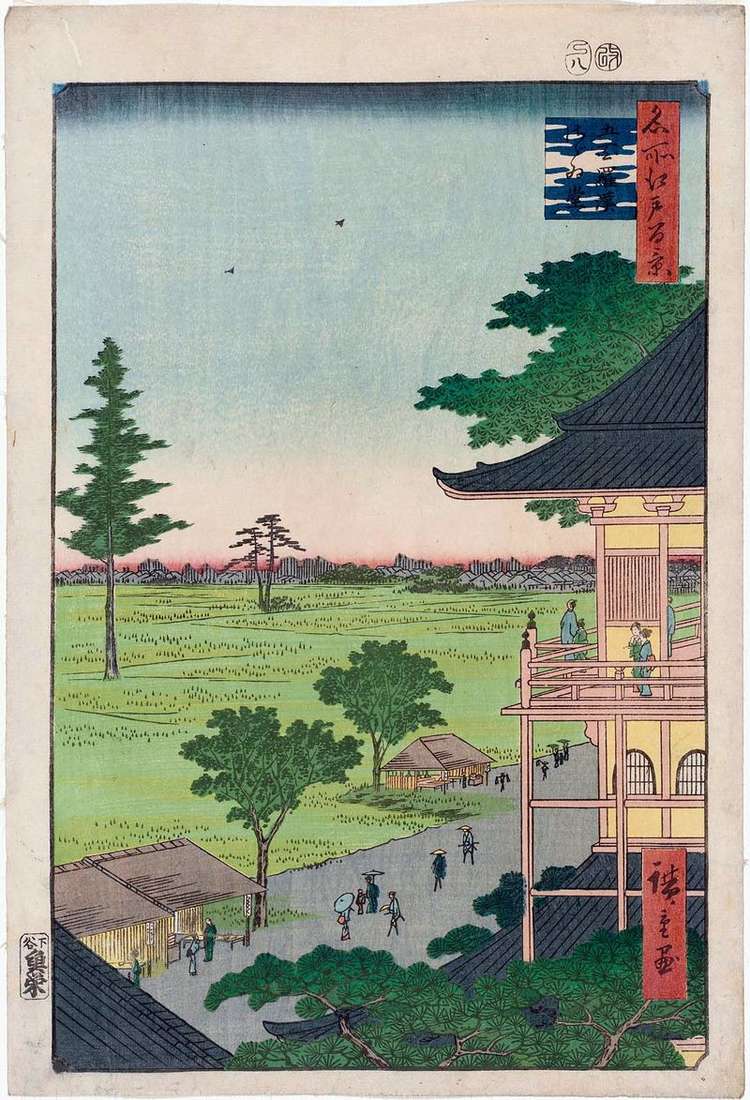 Rakandzi's temple belonged to Obak-shu, one of the directions of Zen Buddhism, which came from China in the 17th century. He was among the rice fields between the rivers Tategava and Onagigava, in the east of the Honda-ze region. All the buildings of the monastery of Gohakurakan were executed in Chinese style, and the service was conducted in Chinese. In the temple of Rakandzi there were sculptures of five hundred arhats who glorified the monastery in Edo and far beyond its borders.
Sculptures were executed in a realistic manner and made a strong impression on the faithful. But even more famous was the temple of Sadzida, inside it was a spiral staircase, so it was called "Spiral" temple. He also depicted Hiroshige on the right side of the sheet. Inside the temple were a hundred statues of the Bodhisattva Kannon. Walking along the spiral staircase of the temple was equated with a pilgrimage throughout the temple of Japan, dedicated to the Bodhisattva Kannon. At an altitude of ten meters there was a bypass gallery, from which a magnificent view of the Khondze area opened.
The color changes of the late leaf touched, basically, the coloring of the roofs of the temple buildings, they became dark gray. The yellow cartouche, characteristic of ALA of the early series, changed to tricolor.