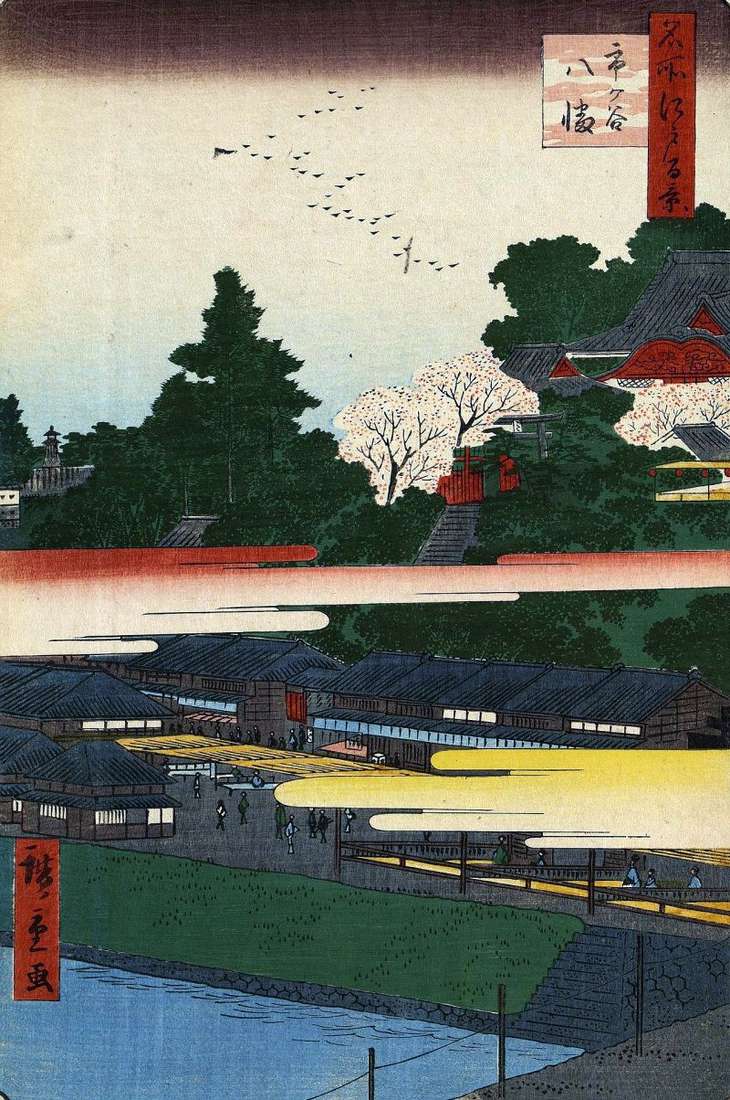 In the foreground there is a part of the bridge at the gate of Itigaya. The name Ichigaya means literally "Market Valley". Behind the bridge to the left were the houses, passing along which in the northern direction one could walk to the stone staircase of the Itigai Hatiman-jinja sanctuary – one of the oldest Shinto sanctuaries in Edo, it is visible on the engraving on the right. This temple was built by Ota Aokan in 1476, in order to protect the castle of Edodze. He was part of the temple of Tsypygaoka Hatiman in Kamakura.
Initially, Ichigaya Hatiman-jinja was behind the gate of Ichigai, but after the ditch was dug from outside at the beginning of the 17th century, the temple was moved to the place where it is still located. This temple began to be called Kamegaoka Hachiman. He was under the protection of the government bakufu and was one of the eight most famous temples dedicated to the god of war Hatimanu. There are a lot of sakura trees on the territory of the temple. At the bottom of the stone staircase were teahouses and theaters. On the left is a large mansion with a fire tower – the main house of the Owari clan – the lateral branch of the Tokugawa clan.
In addition to the general colorful activity of the late version of the engraving, additional colors appeared in it, for example, yellow tones became noticeable in the color of the bands of conditional clouds. By shading inside the contours of the trees, the slope of the shore an attempt is made to convey their volume.