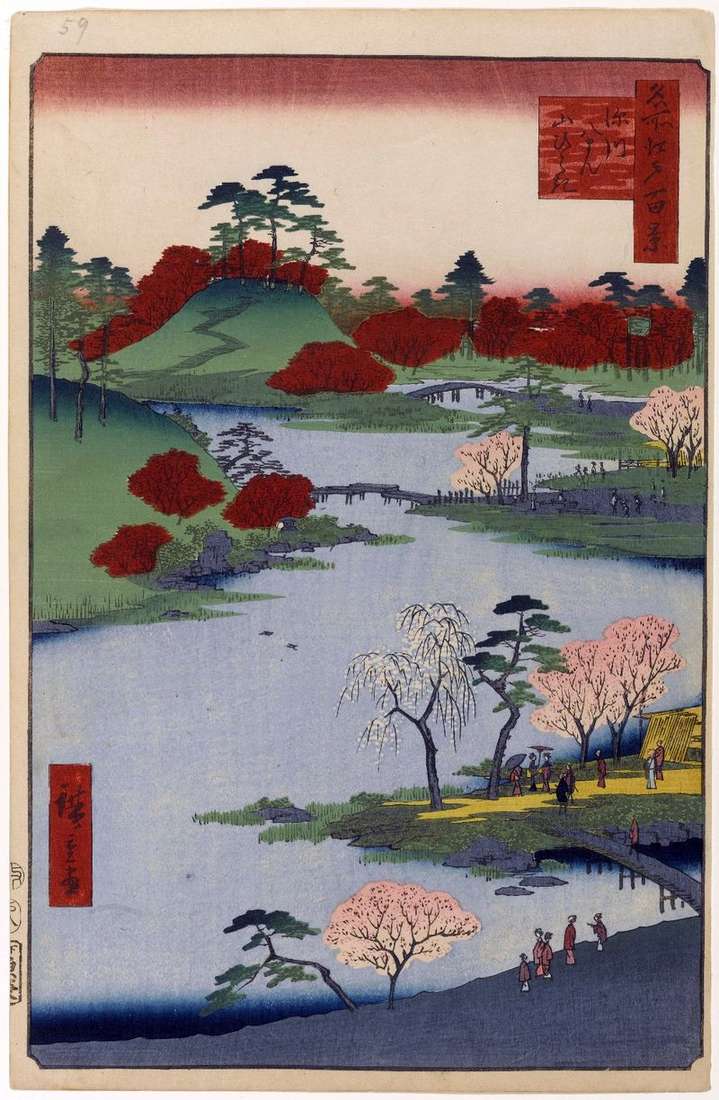 Next to the shrine of Tomiok Hatimangu, more precisely, to the right of it, was the Buddhist temple of Battoji Eitayidzi, who was famous for his garden. The territory of this temple and depicted Hiroshige. Once a year, in March, there was a ceremony of "opening the mountain" – Yamabiraki. "The discovery of the mountain" meant "the opening of the monastery," and its garden for visitors. Shinto shrine Hatimangu and Buddhist temple Eytaydzi were on the artificial island of Eitayjima. The garden of the sanctuary was also a monastery garden.
In the depths of the composition
stands an artificial Fuji, it was built in 1820, ritual ascent to it usually occurred in the summer. The ceremony of "discovering the mountain" also implied the ascent of the artificial Fuji. Hiroshige depicted in this engraving both flowering plum and azalea, although at one time it could not be. Probably, he thus listed all the seasonal holidays that this place was famous for, combining them in one engraving. Gray-blue shades acquire a greater luminosity in the later editions, although the band of the bokasi, passing at the very top edge of the engraving, becomes lighter. The color of the square cartouche changes to red.