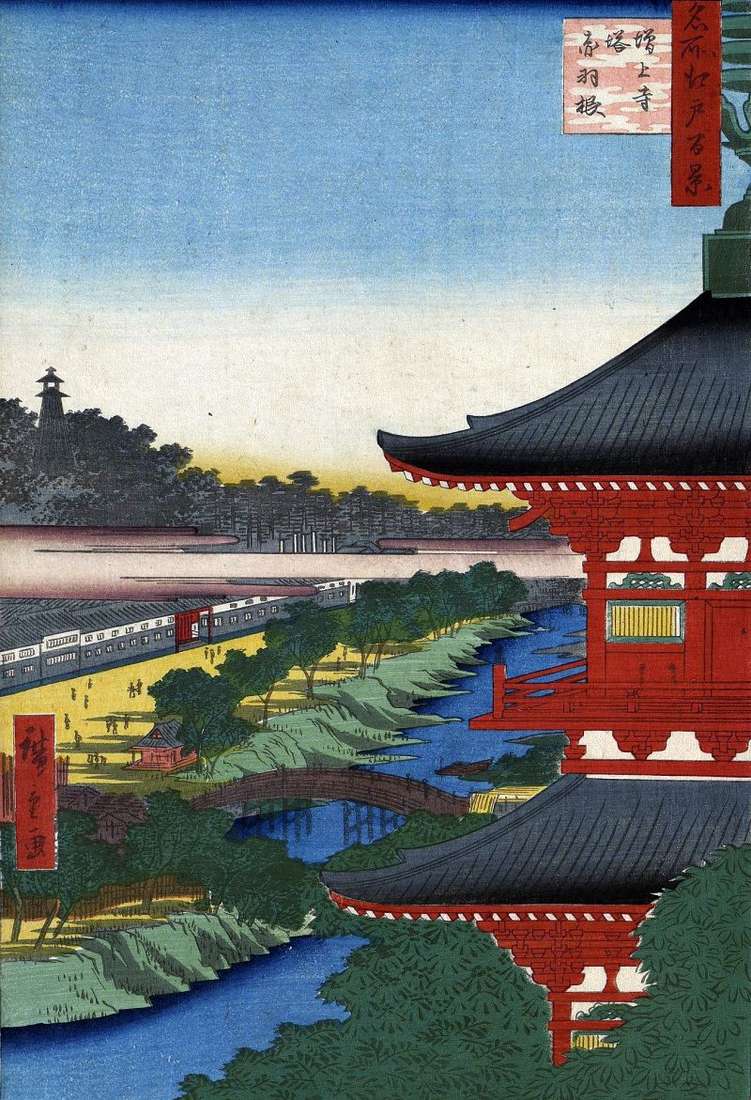 The Dzodzi Monastery was the main temple of the Jodoshu school in Kanto, whose adherents were the Tokugawa house. They buried Tokugawa shogun family members. Kaneiji Temple in Ueno was the official temple of the government of Bakufu, and the Dzodzi Temple was a family monastery of the Tokugawa dynasty. In this series, Hiroshige portrays Jodzieji several times, in this case he shows the southwestern part of the monastery.
In the engraving, the upper two tiers of the five-tiered Gojunoto pagoda are visible, located on the territory of this temple. In the center is the Akabanebashi bridge across the Furukawa River. The houses are visible beyond the river. Behind the red gate is the house of the Governor of Kurume Prefecture from the island of Kyushu of the Arima family. Two symbols of their house were known. The first – the fire tower, which was the highest in Edo and reached ten meters, in the engraving it is depicted on the left. The second symbol is the Shinto shrine in Shintengu, located on the territory of the house of the Arima family. It can be identified by six vertical banners rising above the ribbon of stylized clouds in the center of the sheet.
The basic color ratios in both etchings remained almost unchanged, except for the red glow of sunset, which appears in the late edition of the leaf and the line of stylized white-pink clouds that were dark gray in the early version.