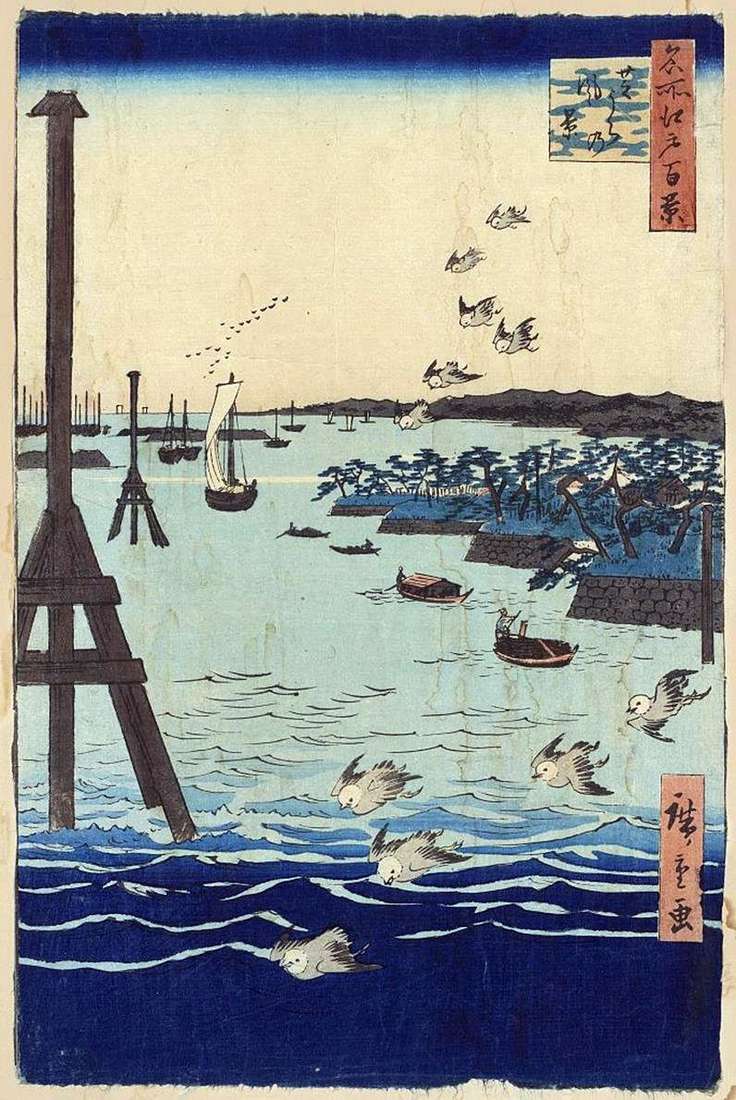 Sibaura – the coast from the bridge of Shiodobebasi to the Takanava quarter. Hiroshige depicts a small section of it, where the Simbasigawa River flows into the Edo Gulf. Until the first half of the 17th century, reeds grew here, the territory was a favorite place for falconry. The younger brother of the fourth Shogun Yetsun – Maiudair Tsunasige received these lands and built a castle here.
His son Yenobu, having become the sixth shogun, moved to Edodze Castle. After that, this castle began to be called Hamagoten and remained one of the shogun's residences. He was on the northern shore of
Sibaur. In the engraving on the right, there is a stone-fortified shore of its territory and some buildings in the depth, among the pines. From its territory there was a view of the Takanava coast with odaiba fortifications. In the distance, cargo boats can be seen in the bay. In the foreground on the left in the water are two wooden supports, along which the water level in the bay was determined. They marked the fore of cargo ships. The first plan of the leaf is a flock of gull-gulls – lawyer.
In the late engraving the color of the ox is changing: now the dark blue band passes at the lower edge of the sheet, the blue contours of the waves appear in the foreground. The crowns of the trees become darker, and the strip of sunset near the horizon is more intense.