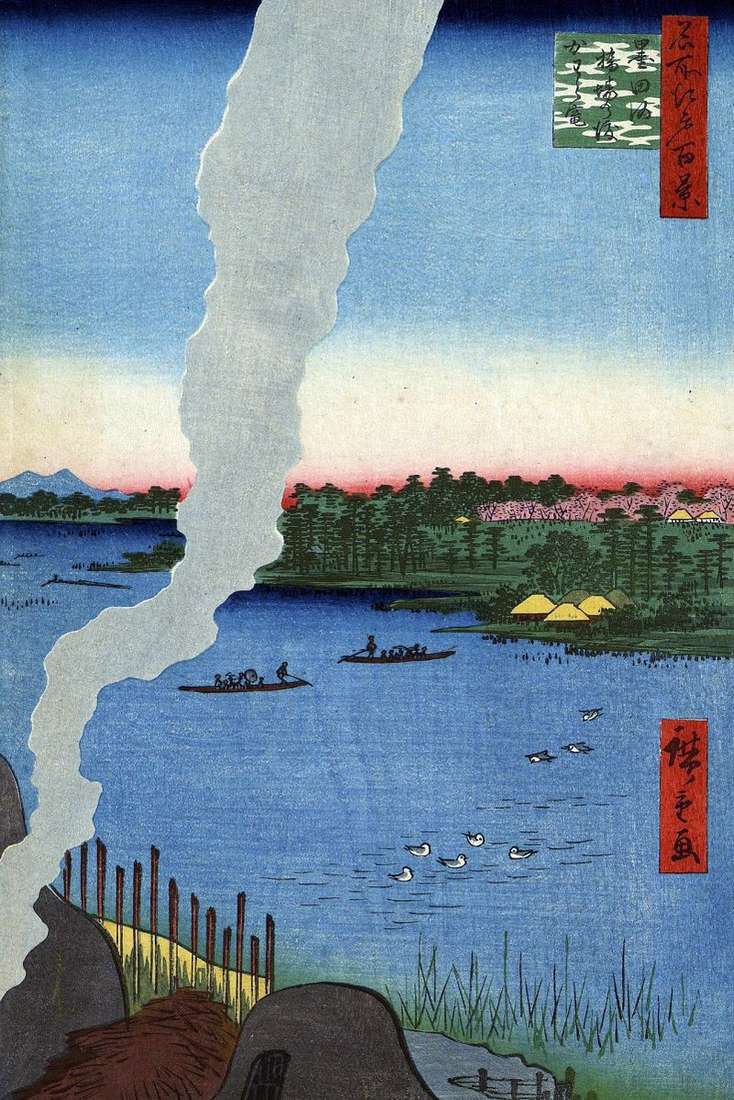 Previously, until the bridge of Senzujoshi was built for crossing to the other bank of the Sumidagawa River, it was possible to get to the island of Mukojima, using the Hasiba-no Watasi crossing. It was the oldest ferry to Edo. The engraving depicts two boats carrying passengers to Mukojima and to Asakusa.
The cherry trees in Mukojima were planted on the orders of the eighth shogun Yoshimune. In the foreground, the viewer sees the stoves for firing tiles and ceramic utensils – kavaragama, between which are dry pine paws, which stoked the stoves. The smoke from the permanently heated furnaces was a characteristic feature of the Imado area, a vast territory on the shore of Sumidagawa. The species depicted by Hiroshige evoked associations from contemporaries associated not only with Imado ceramics, but also with classical literature. Particularly with it are birds, floating in Sumidagawa miyakodori – "birds of the capital".
The mention of these birds is found already in the work of the 10th century "Ise Monogatari". The late print of the engraving became more intense in color. The will of the river became dense blue. The pillar of smoke was stretched from a dark gray to a light, almost white. In the sky appeared yellow and blue horizontal stripes of clouds. The square cartouche became multicolored.