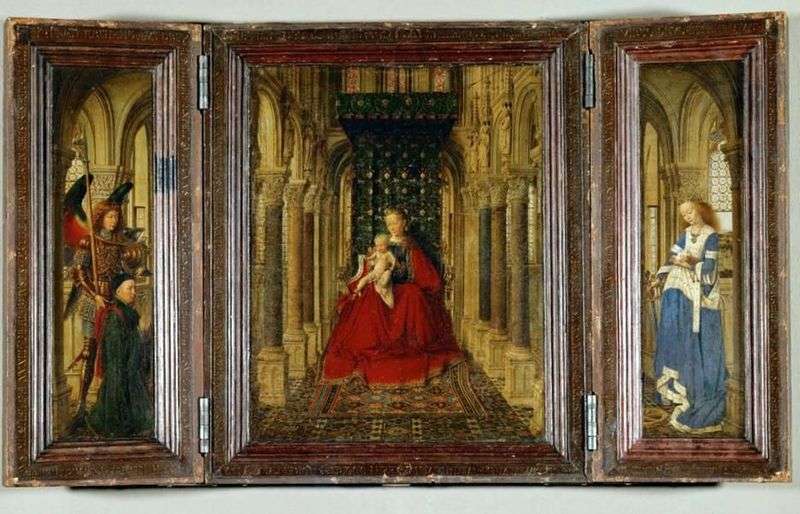 In the Romanesque basilica on the throne, Maria sits with the Baby, holding a ribbon with the inscription "Dicite a me, quia mitis sum et humilis carde". On the left casement, a kneeling donator, represented by the archangel Michael, is shown. On the right is Saint Catherine with her wheel, sword and book attributes. On the back of the doors in the Grisaille technique is written "Annunciation", Mary and the Archangel Gabriel are shown as Gothic Sculptures.
Compositional expressiveness with a very small size, the precious brilliance of colors, the finest execution of details and the
astounding knowledge of that time perspective are the criteria for the outstanding quality of the work. The image is filled with symbolic content. On the capitals of pilasters, the "Fall" and "The Expulsion from Paradise" are presented, above the capitals – the figures of the apostles.
The thin plastic decoration of the throne contains on the left an image of Abraham, ready to sacrifice Isaac, and on the right of David and Goliath, on the left armrests on the left, the legend of Pelican, pulling a heart out of his chest to feed his little ones to them, on the right, Phoenix rising from ashes. Thus, the work "Included", the connection of Christ with the people and hidden hints of redemption through the sacrificial death of Christ are included in the work.
The identity of the customer picture, depicted on the left sash, is not installed. On the frame of this sash, at the top right, is the coat of arms of the Genoese Justiniani family. In the 17th century, this small altar was in the collection of Charles I of England, as indicated by the seal on the lower part of the frame of the right wing. In 1696, the picture appeared in the register of Everard Yabaha's collection in Paris.