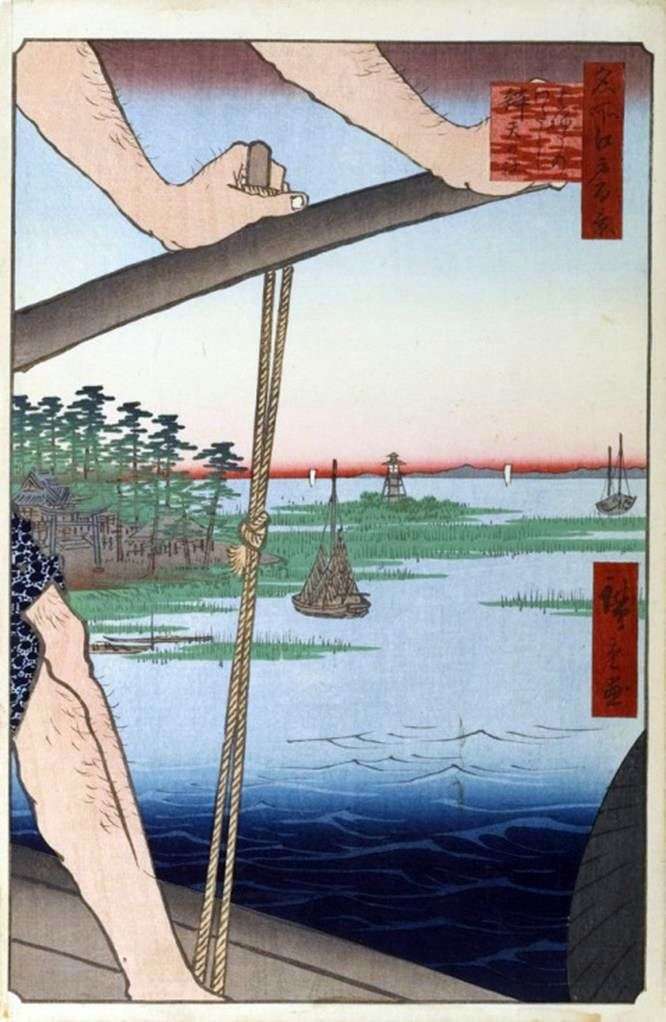 In this engraving, Hiroshige uses the same method of contrasting contrasting plans, sharply pushing the feet and hands of the boatman to the forefront. Hiroshige chooses the most characteristic motive for this locality – a boatman crossing the Tamagawa River, on the right side of the sheet one can see the edge of the hat of one of the passengers. This is the famous ferry to Haneda – Haneda-no Watasi.
In the left part of the engraving is visible the territory of the sanctuary of Benten, the main deity of which was Benzaiten – one of the seven gods of happiness. Bendzeiten was considered the
goddess of music, eloquence, wealth, wisdom and water. Sanctuaries dedicated to Bandsaiten were often built on the shoals in the sea or on the river. The Haneda district is no exception. At the time of Hiroshige there was a sandbank, it was part of the coast of the Haneda Bay, where the sanctuary was located. In the distance you can see the mountains of the peninsula Boso. Now this part of the bay is covered.
The site of the sanctuary of Benten is a freeway. In the early version of the engraving, the crests of the waves in the foreground are underlined by light-blue contours. In later editions, they are not so prominent, as the ox acquires a deep blue color, shifting to the horizon in the blue.