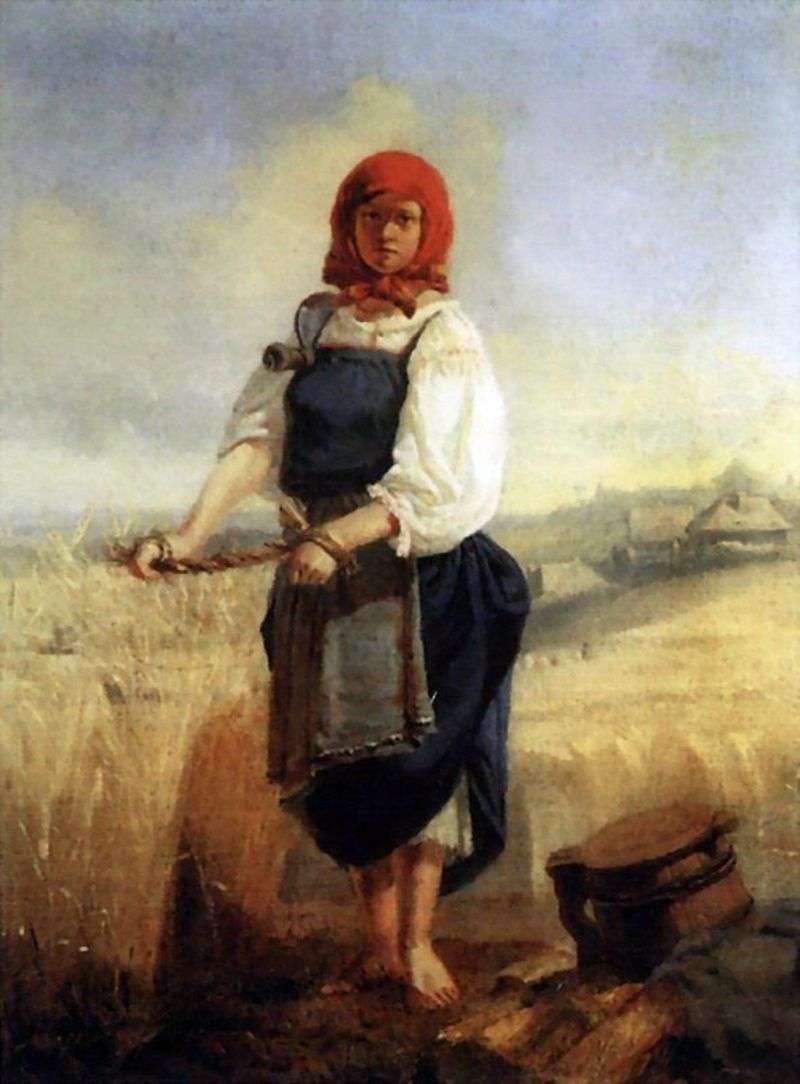 Victor Vasnetsov is known primarily as an artist whose pictures brought to life the characters of Russian folk tales, parables and epics. Famous "Bogatyri" and "Alenushka", "Carpet-plane", "Sadko", "Knight at the Crossroads" – these pictures are familiar from childhood to every Russian person. But the "fairytale" artist began his creative career with writing realistic, life-like works depicting the life of ordinary Russian peasants. One of these paintings is "Znitsa", written in 1867.
Autumn time has come, and with it
time to harvest. All peasants, from young to old, at that hour worked tirelessly. The young peasant girl, who was captured by Vasnetsov in the middle of the canvas, also had his own work. On it is a white embroidered shirt and a blue sarafan. The sleeves of the shirt are gathered up to the elbow, the hem of the sarafan is picked up and plugged in the waist – clothes should not interfere with hard work. The reaper's hair is taken away under a red kerchief. The girl's outfit is neat and tidy, looks fresh and festive, and it's not surprising. According to the old Slavic tradition, it was only necessary to put on new, clean, and even festive clothing for harvesting.
Thin and thin, young barefoot peasant woman is not afraid of work. Having just finished the harvest of her field, she hung up the sickle on her shoulder and prepared to knit sheaves. The girl's face betrays her fatigue, but the awareness of the importance of labor brightens the hours of hard work in the field with bright joy. It seems that she froze only for an instant, and a second after the artist noticed her, the girl again will continue to harvest grain and knit sheaves.
In the background, pictures, shrouded in the morning haze, depict wooden peasant huts. The houses in this small village are cozy and tidy. At the feet of the girl – a simple wooden jug with cold kvass. In the heat, he will help her and other reapers quench their thirst. The morning blue sky is not clouded by clouds – only a light smoke breaks its clarity. The golden wheat fields spread out behind the peasant woman, yellow, sun-drenched ears lean toward the earth.
The picture is permeated with the love and quivering attitude of the artist to the simple Russian people and his hard work. The hard life of the peasants, the breadth of the soul of the people, the enchanting beauty of their native nature – all this came together in a modest but rich V. Vasnetsov's rich work.