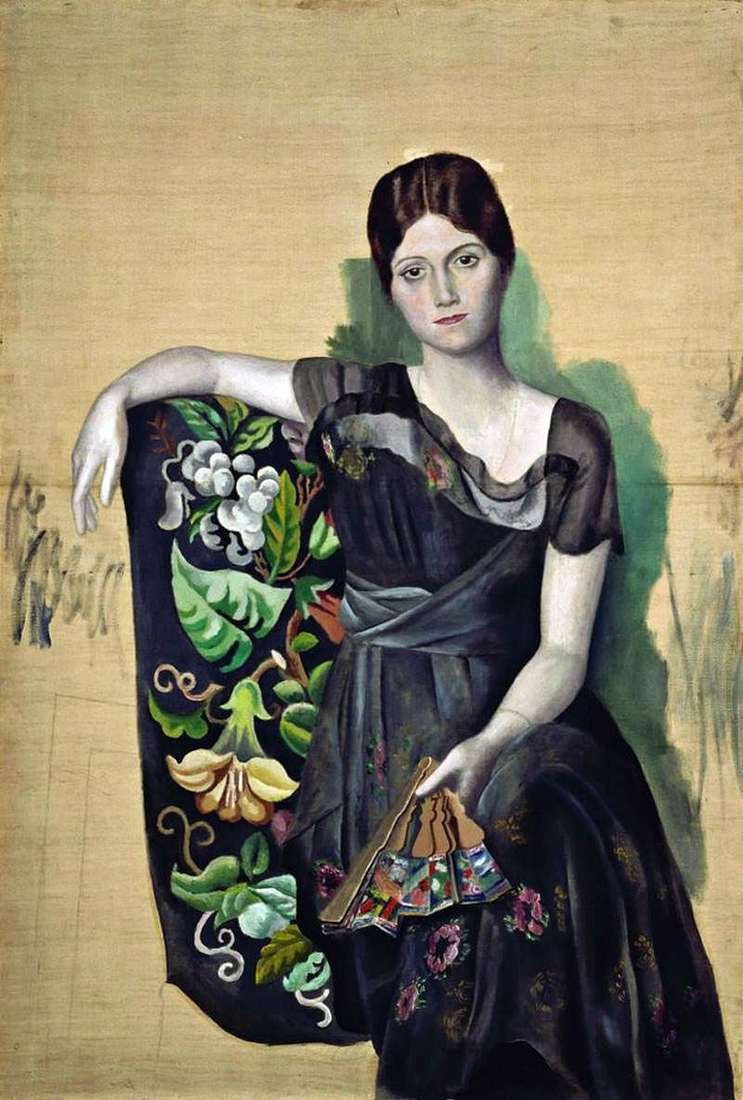 Olga Khokhlova is the thin thread that connected the great Picasso with Russia. Picasso met the Russian ballerina when he painted the scenery for the famous Russian Seasons by S. Dyagilev. Attachment to the Russian beauty was so strong that the artist, without hesitation, led her down the aisle.
"Portrait of Olga in the chair" is considered to be the starting point of the short classical period of creativity of Picasso. Realistic style, accuracy and elegance of the picture, portrait similarity – this is what the public did not expect to see after the bold "Avignon girls" and other works in the style of cubism.
The work will upset the patriotic spectators – except for the main character, there is nothing Russian in the portrait. Rather, you can note the languid Spanish flavor – a fan in his hands, large flowers on the upholstery of the chair. However, a mysterious deep look, a proud posture, white aristocratic skin, no, no, yes, and leads to thoughts of a mysterious Russian soul.
Curious is the game of volumes in the work – the figure of Olga in the real volume "superimposed" on a flat background, and from this it seems that the heroine seems to be floating in space.
Picasso painted the famous portrait of his wife from a photograph, which is now in the Picasso Museum in Paris. It is very interesting to compare these two artifacts, since it is possible to track with accuracy how similar the original and the picture are, and to see in reality how the master transformed the real space with the help of an artistic language.
The classic style of the portrait is also explained by the fact that Olga Khokhlova did not recognize any artistic experiments and aesthetics of cubism – she wanted her images to have a portrait resemblance.
Many contemporaries recollect that the ballerina was not so beautiful, spiritual and intelligent in life, however, Picasso, who looked at Olga with loving eyes, most likely unconsciously embellished his future wife on canvases, inviting the viewer to see her chosen one through the prism of his feelings.
Here and in the portrait she looks mysteriously, proudly and somewhere inaccessible. Unfortunately, the marriage of Picasso with Olga was not eternal, and 10 years later the image of a new muse began to appear in his paintings, although officially Madame Picasso ceased to be such much later.