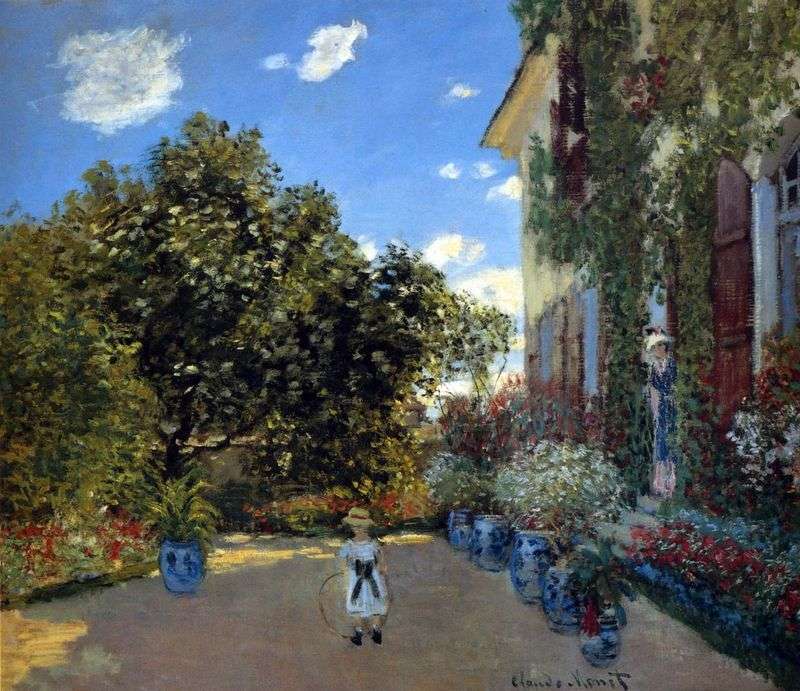 Beautiful clean house. Blue vases in the style of the painting "Gzhel" are in a row. Worn out yard and plenty of beautiful flowers. The window frames are painted sky blue, bright brown shutters open to meet the summer light. The walls of the house are painted white with yellow tint. The sky is clear and bright. The paint is exactly like gloss, broken by the tangles of white clouds. The yard was visited by a funny child with a hoop. This is a cute girl in a straw hat and a light dress. About her worried lady in blue, looking out onto the street. A wonderful place for walking this yard. Its edge is outlined by old trees with a lush crown. Her foliage made in the technique of pointillism – small dots, like coins of different colors.
The abundance of flowers affects the variety of accents characteristic of a particular variety. There are thin stems with white buds, pink and red primroses, blue small forget-me-nots, and a long vine on the wall… A beautiful summer, a clear day and a cozy family courtyard in Argenteuil – a place near Paris. These are the sweetest moments of the life of the author of the work. Many warm memories of Claude Monet's first wife and young sons, youth and their beginnings in the role of father and husband are associated with this place.
The painting "House of the Artist in Arzhantey" warms the detachment from the topical issues and themes that connect the viewer with one of the warm summer days in France of the XIX century.