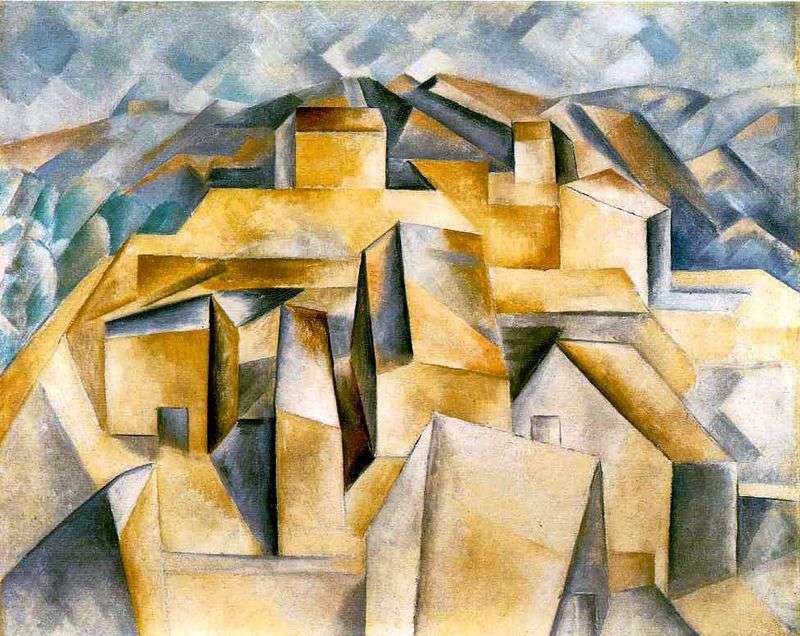 1909 for Picasso was marked by the beginning of a new period in the works – analytical cubism, it is under this name that he will enter the master's biography and the world artistic heritage.
In this paper, Picasso refers to the genre of the urban landscape. From the canvas on the viewer watching the house of the city with the exotic name of Horta de Ebro. This small town is the birthplace of a close friend of the master, Manuel Pallares.
Only the original style that originates in the artist's work, does Cubism acquire the characteristic of an analytical one, in order to reach its highest point of development several years later and be transformed into synthetic cubism. And now Picasso is working on the form, splitting it into simple geometric shapes, experimenting with the plane, while remaining within the monochrome color scheme to focus the viewer only on the form, as the main bearer of the content of the picture.
In this work, we see how the artist "plays" with the outlines of urban houses on a hill, presenting us the conventional image of the declared painting program, rather than its authentic content.
And although the whole work space is broken, in the picture the foreground and background with mountains protruding above the houses are guessed. This is one of the "tricks" of the famous master – to merge into one whole the elements of the landscape, only outlining the differences in plans and outlines. The artist will use this technique more than once.
This picture is placed in the list of the most famous masterpieces from the great creative heritage of Picasso. Today this picture is exhibited in Berlin.