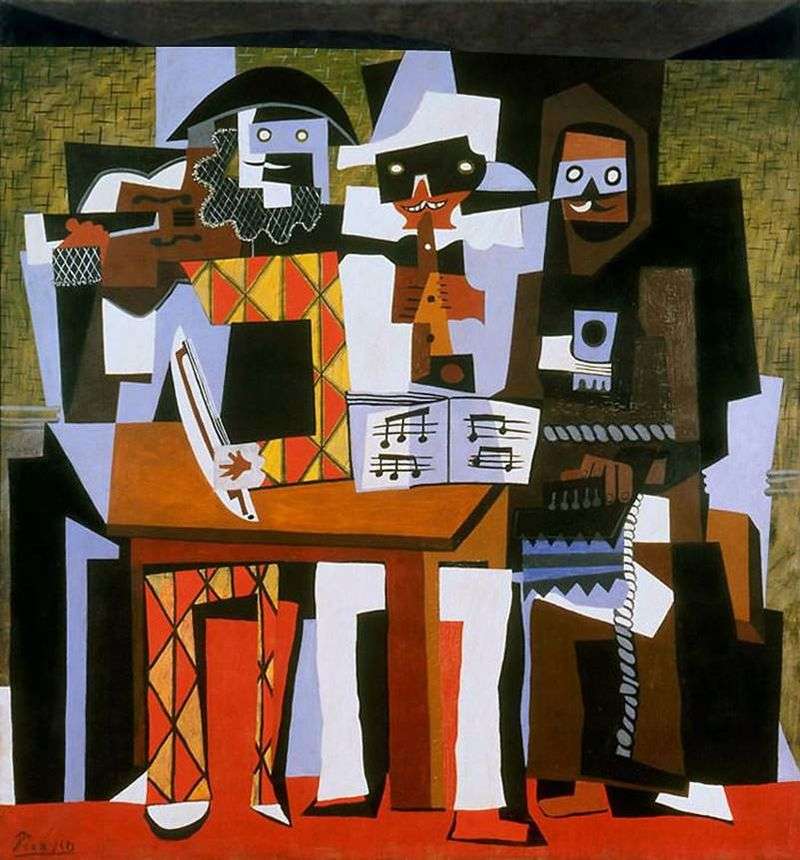 In 1921, Olga gives birth to a son, and instead of a traditional vacation at sea, the Picasso couple rents a luxury villa in Fontainebleau. It is not a secret for anybody that the artist was little concerned with the family routine, and in a secluded family nest he could not breathe freely – Paris beckoned him.
But nothing can be done, Picasso remains beside his wife and is completely immersed in the work. "Three Musicians" – the most striking work of this period.
The picture is written in a peculiar style – synthetic cubism. Picasso was always closely in the framework of a particular genre and manner, in each direction he sought to expand the framework and move away from the canons.
It is believed that three musicians on the canvas is not easy abstract personalities, but specific people. In the image of the clarinetist Piero, the artist portrayed the recently deceased avant-garde poet and close friend of Guillaume Apollinaire. The monk with an accordion is Max Jacob, a French poet and artist who will perish tragically in the camp during the occupation in 1944. And the harlequin with a violin is Pablo Picasso himself.
The unusual texture, amazing images create a unique dynamics, and it seems that you can catch the sounds of groovy jazz flowing from the canvas.
All the characters are depicted in clownish outfits, which refer us to the traditional characters of "gum del arte". History has preserved the fact that this idea of Picasso spied from the troupe of one of the Roman theaters.
The technique of execution is striking – three different figures are depicted in the same space, and it is difficult to get rid of the impression that they are not only created separately, but also seem to be glued to the canvas. Another surprising feature is that the figures made in the style of cubism, while not losing volume.
As for the means of expressiveness, this picture is distinguished by its underlined simplicity of form and the use of a small circle of colors – red, yellow, black, blue, white.
After the presentation of the work to the audience, the pictures fell to praise. So, Maurice Raynal argued that the work of Picasso is "a masterpiece of intelligence and grace," and also defined it as a kind of successful result of all artistic searches within the framework of cubism, perfectly demonstrating all the strength, wide range of faces and revelations of this style.
There are two versions of "Three Musicians". A more complete work is now in the Museum of Modern Art in New York.