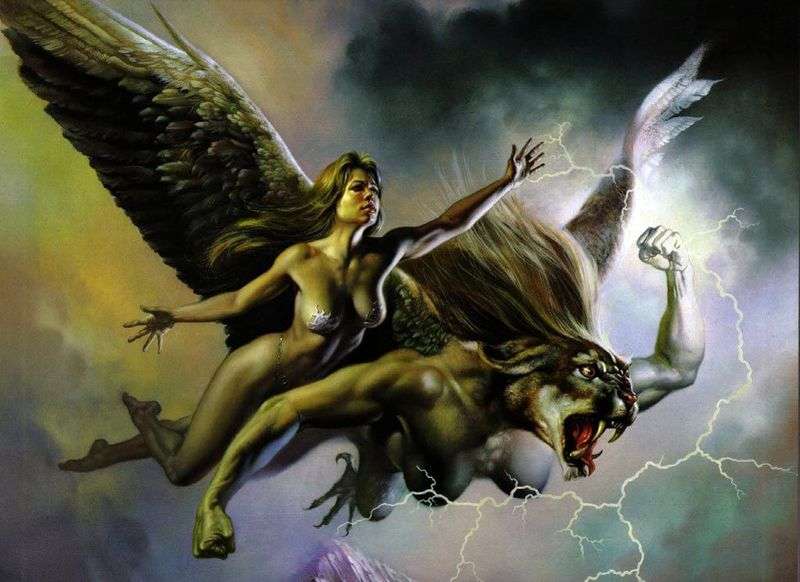 American artist of Peruvian origin Boris Valedjo is known all over the world as a photographer, illustrator and draftsman. Born Vallejo on January 8, 1941 in the capital of Peru, Lima. He studied Fine Arts in the National School of Arts. By the time of graduation, he was awarded a grandiose to continue his studies in Florence. But the artist decreed his fate otherwise, and in 1964, not knowing English and almost without money, he came to conquer New York.
Years of hard work were required by Boris Vallejo to turn from an artist-designer into an independent, "free" artist. He undertook any job. Working for almost all major publishing houses in the direction of fantasy and science fiction, Vallejo mastered various styles, which, as a result, helped him to form and develop his own unique style.
One of the favorite characters in Boris Valedjo's paintings are the mysterious Amazons. In mythology, this is the name of the people, consisting exclusively of women who did not tolerate husbands, formed a special militant state and went on campaigns under the leadership of their queen. For the preservation of the offspring, the Amazons associated with neighboring nations, sending them newborn male children, leaving the girls to train them for war, while burning their right breasts so that it did not interfere with the stretching of the bow. Hence the name "Amazon", that is, "bezgrudye".
However, since the ancient times, the Amazons were portrayed by painters and sculptors as ideally beautiful women with beautiful figures and both breasts, but with a very developed musculature. Vallejo's paintings are based on existing reality, but they are far from blind imitation of nature. Mythical characters of his paintings bear the same stamp of significance as human figures. It is obvious that this is a figment of the imagination, but they are so convincing only because the artist carefully studied the surrounding world.
The characters of Vallejo paintings are often born from a combination of photos of people and animals, but to create a fantasy reality you need a solid knowledge of the anatomy and the artist's ability to combine the individual elements into an organic whole. However, this is not enough. It is important not just to make the picture convincing, but also to portray a fictional hybrid so that it appears alive. Painting by Boris Valedjo "Sisters" serves as this confirmation. How convincing is their selfless friendship, how gorgeous the girlfriend of the young Amazon is in her passionate impulse to be together until the end. We're the same blood!