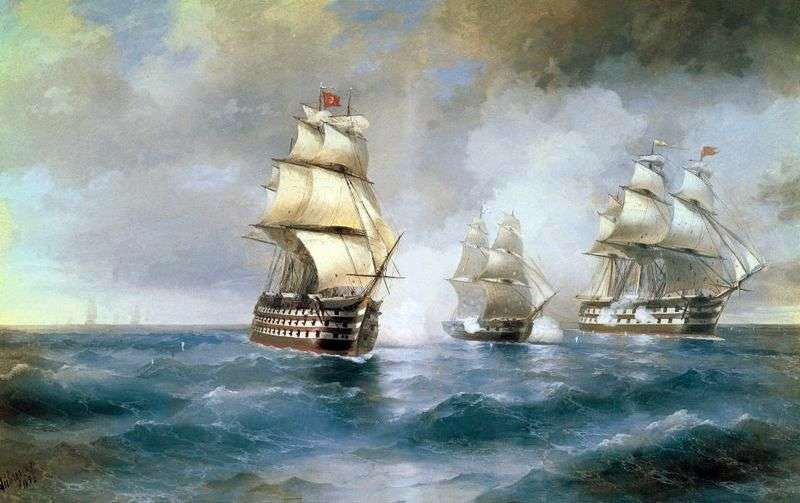 This picture is dedicated to the glorious history of fearless Black Sea men – the brig "Mercury" after the victory over the Turkish ships meets with the Russian squadron. May 14, 1829 Russian 18-gun brig "Mercury" at dawn near the Bosphorus took an unequal battle with two Turkish ships. One of them was a 110-gun battleship, the other a 74-gun. The commander of the brig, captain-lieutenant Kazarsky, along with his officers and sailors, decided to perish, but not surrender.
Both Turkish ships settled on both sides of the "Mercury" and offered to surrender, but in response to "Mercury" they opened fire from all guns and guns. "Mercury" was completely broken, the sails were torn, a fire broke out, water penetrated into the holes, but the Russian sailors continued to fight courageously. Successful shots, they caused such significant damage to both powerful Turkish ships, that they were forced to stop the pursuit and lie down in the drift. After the battle, Mercury successfully joined the Russian squadron. A picture of Aivazovsky shows a silvery moonlight night.
Nature is in a state of complete rest; There are no waves, only a slight swell is barely noticeable on the sea, and over it, in the peaceful night sky, swift light clouds float. In the open sea, "Mercury." He returns to his native Sevastopol after a glorious victory over the enemy. In the distance, Russian ships can be seen meeting a heroic brig.