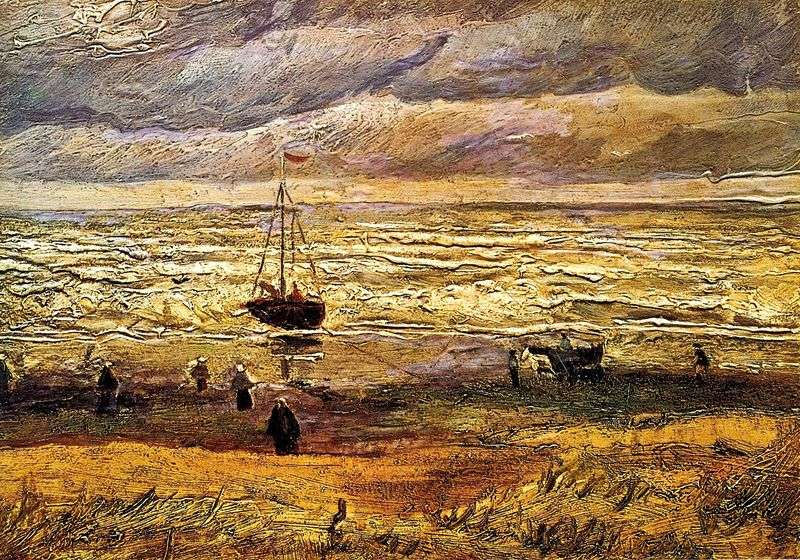 Vincent Van Gogh was not a happy and successful person in his life. His work was not recognized by contemporaries, so he constantly sought to prove that he was a bright personality, capable of genius creations. And in 1881 the artist takes lessons from Anton Muau, who was his distant relative.
The training began with a drawing to achieve accuracy in the image of objects. Only after that, the artist began to work with colors, and his first work was the painting "The Beach in Scheveningen." It is a landscape with windy weather, and since the artist worked in an open air, he had to paint a picture under difficult conditions. Storm on the sea raised in the air a cloud of sand and did not allow to work. Van Gogh made a preliminary sketch, and finished painting already in the shelter. From the storm in the colorful layer there were some grains of sand.
To write a picture in such conditions it is necessary to possess considerable skill. Very accurately conveyed the state of nature. Gray clouds hang over the water, the sun gently breaks through them, leaving bright glints on the raging leaden waves. Because of this unusual lighting, the figures of people and boats look like silhouette spots. At first glance, the picture seems monochrome, written in gray-green colors, but looking closely, we see a golden shore, dark blue shades of the sky and white spots sparkling white. The painting was written in the manner of the Hague School of Painting, since Muave belonged to her.
The artists of this school sought to introduce a new trend in the landscape, use shades of colors, to convey airspace, although their painting is still close to tonal. Van Gogh brings into the picture people's image that was not characteristic of the sea landscape and builds a picturesque sequence of shades of a single color, which include additional colors, emphasizing each other in a tone. Van Gogh made a new step in the development of painting, he moved away from the image of the real color of objects, which became self-sufficient.