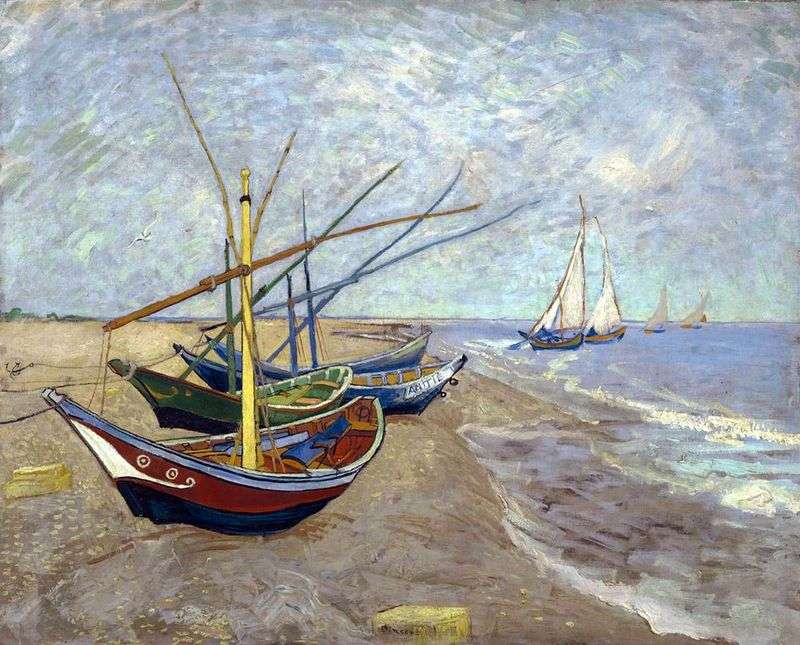 The work of the Dutch post-impressionism of Vincent van Gogh with every century is becoming more popular. His paintings are becoming increasingly important in the world of art, as well as have considerable material and artistic value.
In the Amsterdam Museum named after Van Gogh is his painting "Fishing boats on the beach from St. Marie," written in 1888. Van Gogh's works are characterized by wide pastoral swabs, but in this picture they are not. This is an unusual manner for the artist and all the subjects in this picture are in lightness and weightlessness, and the details are spelled out in great detail. Only the surrounding landscape – the sky, sand and waves, remind us of the author's manner of writing the painter.
The picture shows a quiet dock with boats in the foreground. Saturated and colorful colors fill the entire surface of the picture. Motley multicolored boats on a golden brown sand background, transparent bluish waves, the sky with numerous pinnate, snow-white clouds suggests that a strong wind will soon begin. The ships located in the foreground are written brightly and graphically. Their body, keel and masts have clear outlined contours. In the sand below the picture and on the left you can see two yellow trunks gleaming in the rays of a dazzling sun.
Foaming waves roll to the shore and further and further take to the sea the nearest boats. In the picture you can feel the vividness of nature and the movement of wooden boats created by man. In the landscape there is no image of a man, so the sandy beach seems abandoned and lonely, but at the same time, all the elements in the picture are meaningful and independent.
Boats seem to live their own lives and decide when to leave the shore and set out on a journey full of dangerous adventures, overcoming the sea element. And now, they just wait for the time when a favorable wind blows.