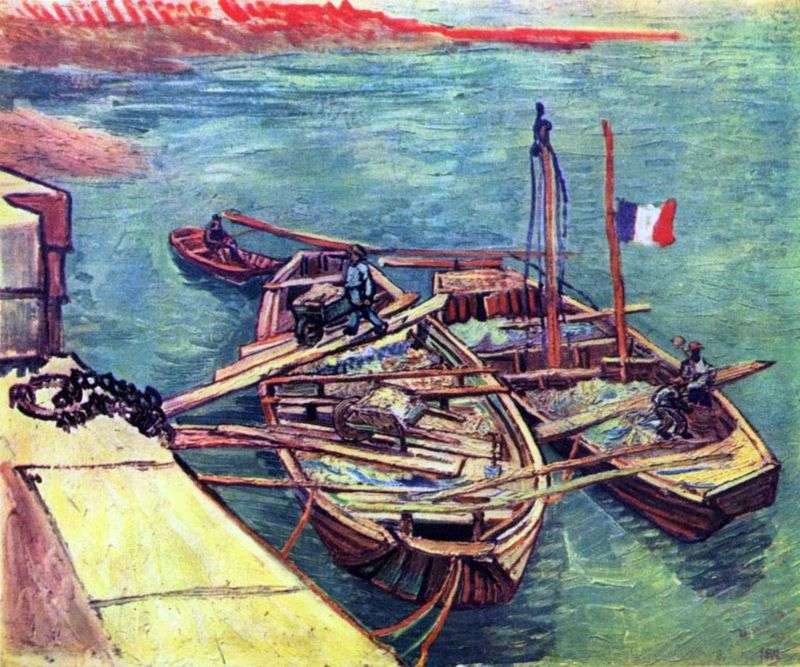 Vincent Van Gogh is a vivid representative of post-impressionism. In the late period of his work he wrote a lot of marinas, dedicated to the beaches of Saint-Marie, boats on the quay, raging sea elements.
The picture "Boats with sand at the pier" refers precisely to this period of creativity. It was written in 1888, when the artist from Paris moved to Arles, where his creative artistic manner was finally formed. At the decline of his work, Van Gogh was fond of Japanese engraving, paintings by Paul Gauguin and paintings of impressionism. All this influenced his creative search and reflected on the palette of his works and the compositional construction of paintings.
All this can be seen in the picture "Boats with sand at the pier". For example, the artist uses in the composition of the painting a look from a bird's eye view to boats docked to the shore. This is typical for Japanese prints. Saturated colors and broad brush strokes – the influence of Impressionism and Gauguin's painting.
In general, the composition of the picture is the diagonal arrangement of the boats at the quay. They are lit by a bright sun, which is indicated by the contrast of light and shadow. Van Gogh uses black color to enhance contrasting relationships. The water surface is painted with turquoise shades in a broad brushstroke. The boats are filled with yellow sand, and people, wanting to finish their work day, unload it. We see a man rolling a loaded cart on laid boards to the shore.
The artist even painted a French flag on one boat, which indicates that the boats land not only to the shores of France. The picture pleases the view with its bright colors and simple simple storyline. She is like a child's drawing, simple and beautiful. The picture is well suited as a decorative element in the interior.