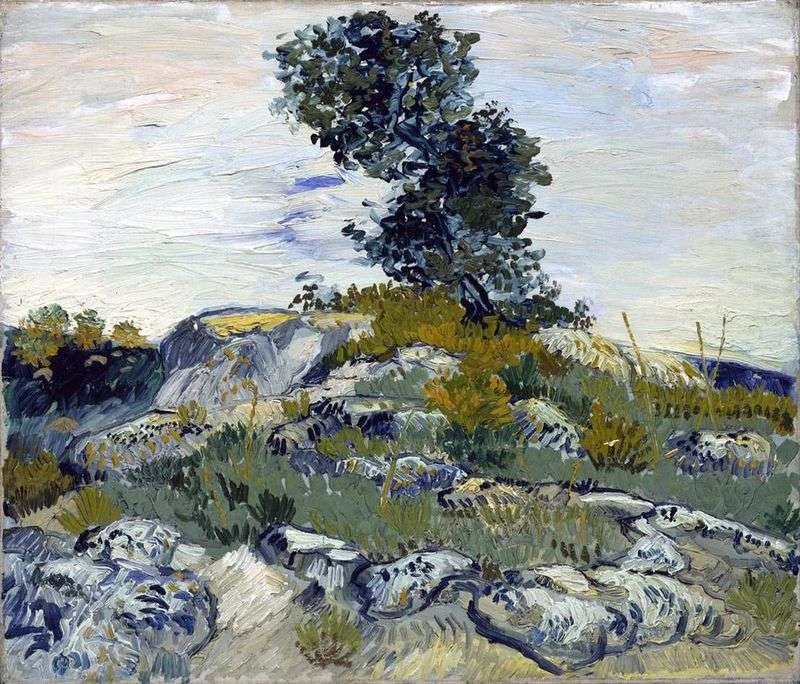 The picture "Boulders and Oak" by Van Gogh was created in 1888 in Arles. At that time, the artist painted a lot, including from nature. This landscape he wrote in the mountains near Arles.
The composition of the picture is very interesting. Almost half of the canvas is occupied by a high hill. The upper part is reserved for the sky and a young oak tree. Van Gogh has a tree almost in the middle between the right and left edges of the picture and flies right up to its upper edge. Thus, he violates the classical canons of composition, but this is not surprising, since all of his art was innovative.
The landscape is dominated by cold colors. Blue and pink shades of the sky are very harmoniously transmitted. The foliage of the tree is almost all written in blue and ultramarine. By the same colors are written out the contours and shadow parts of heavy boulders. This predominance of blue color conveys the atmosphere well, creating the impression of airiness.
The artist's attitude to the wild nature is expressed here in the manner of painting. The landscape is written with sharp, energetic strokes. Vog Gog did not mix colors on the palette, applying pure colors directly to the canvas. The picture is literally permeated with the atmosphere of pristine nature. Van Gogh was the best to convey the wild beauty and mystique of the untouched corner.