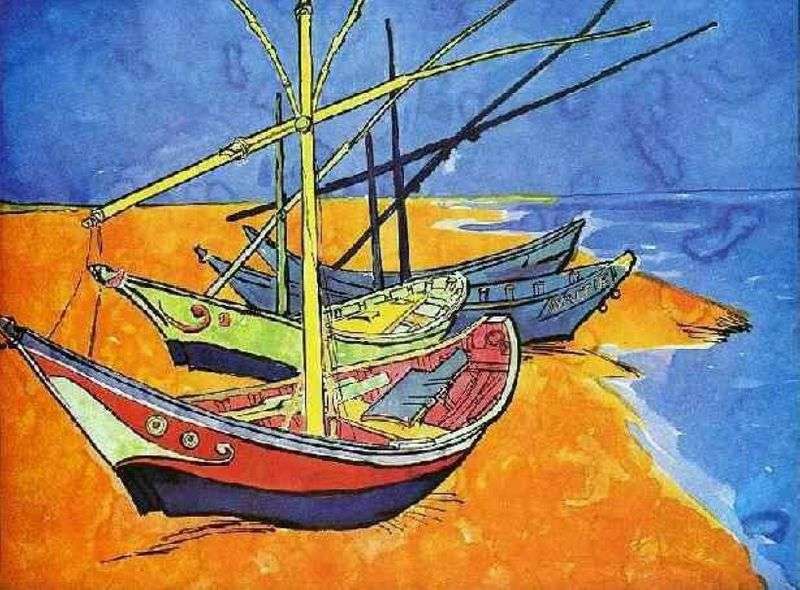 Vincent Van Gogh "Fishing boats on the beach from St. Marie", watercolor Van Gogh's paintings written in the late period of creativity, are filled with detachment from the whole world, loneliness and even some tragedy. All this is due to the pain of the artist. His inner state was reflected in his canvases. The artist mostly worked with oil paints, on which he spent almost all his savings.
In 1888 he painted the painting "Fishing boats on the beach from Saint-Marie" oil on canvas and in the same year the author's replica of this work with the same name was written, but painted in watercolor. This copy of the picture, which speaks of the creative searches of the artist, is also of great interest in the study of Van Gogh's works. A striking difference from the variant written in oil is the extraordinary brightness of the colors. Thus, the picture acquires a decorative character. When writing a painting, the artist uses all the techniques of working with watercolor.
The background is written by the technique "in a raw way", which is noticeable in the color overflows of colors. Masts and hulls of boats are written "a la prima" at once with saturated colors. Here and there we see the technique of glazing, thin layers of watercolor, to enhance the color effect. Due to the decorativeness of the image, the boats seem to be dug into the yellow sand.
The artist does not depict the golden chests present in the variant on the canvas. In the picture there is freshness and lightness of the image, which is typical for watercolor painting. Pure colors please the eye. If the previous version of the picture is full of loneliness, then the watercolor copy looks more cheerful, the boats are already ready to go on a long journey, it remains only to leave the deserted beach. This version of the picture, printed on silk fabric, could become an accessory to clothes in the form of a scarf or scarf. In the interior, the picture becomes a beautiful bright spot, reminiscent of distant travel.