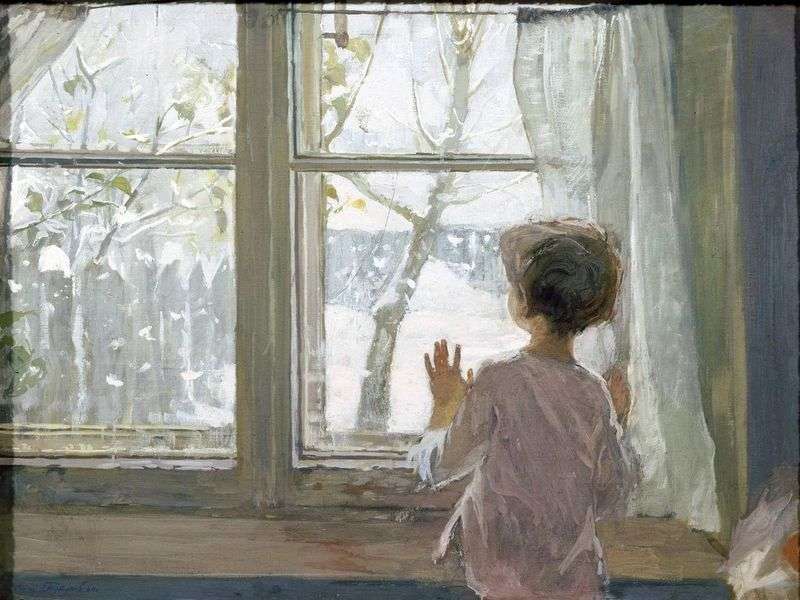 In the picture of SA Tutunov "Winter has come" depicts a boy standing at the window. He stands with his back to us, so we can only guess at the expression on his face. It can be thoughtful, dreamy or even enthusiastic. Maybe the boy was very much waiting for this snow, the arrival of winter, to ride the sled from the mountain, play snowballs, frolic with friends in the courtyard. There are dreams of New Year's holidays, gifts. Fantasies are filled with light of garlands and aroma of needles.
We see that the snow lying on the trees fell on the non-fallen yellow-green leaves. Outside the window a wonderful, beautiful picture opens. The whole courtyard is hidden like a snow-white velvet veil. We see a fence that seems to be enveloped in a snowy white haze. It can be seen not very clearly. The boy peers into the distance, perhaps reflecting on the fact that yesterday the courtyard was of a dark color, and today there have been such changes that he can not admire.
Slowly, large flakes of snow fall, spinning and hanging in the air, as if in a dance. If you go out into the yard to play, then you can get great pleasure, walking on a freshly fallen, crunchy snow. At last winter came, because children love her so much. The earth is covered with a snow-white carpet, the trees are decorated with bunches of snow and hoarfrost. Frosty air makes the atmosphere calm, and you want to breathe it.
I think that this picture reminds once again that winter is the most magical time of the year. It is full of mysteries. Winter has its own specific beauty. I think that all people love winter, regardless of age. It is at this time that miracles happen, the most unrealizable dreams are realized. The winter months bring us a maximum of new emotions, impressions, which we can recall all year, in anticipation of the next miracle. They are no less beautiful than summer memories.