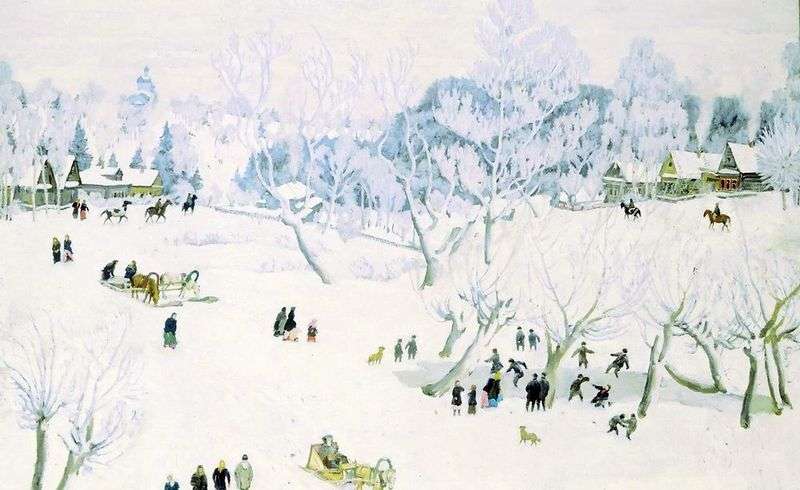 This artist is considered one of the most talented. One of his famous paintings is "The Sorceress-Winter", which he painted in 1912, as a young, energetic painter, looking for his own unique ways of expressing on canvas Russian nature. In this picture we see the fun of the winter season. Looking at it, we seem to be in a snow-white fairy tale, and this fairy tale, in my opinion, creates snow that adorns the earth and everything gloomy with its snow-white carpet.
In the painting, the artist captured the outskirts of the village. All the beauty of the winter landscape is illuminated by the bright sun, which casts in precious snow crystals in snow drifts. The backdrop of the picture is occupied by village houses, and behind us is a thick, but snow-covered forest. All the trees the artist dressed in snow-white clothes, and even the depicted dome of the temple, barely noticeable from under the snow.
The foreground of the picture is a pond whose water froze from the frosty frosts. On this pond the local kids arranged a skating rink. From the shore, the children are watched by adults and the elderly, and it seems to me that they remember their youth and youth, as they could themselves once a day ride on sleighs and throw snowballs. At the very pond, the boys play perpendicularly in snowballs, many simply lie in the snow. I saw that the picture shows a woman, she rushes to the ice rink on the pond with her little child.
This picture is saturated with joy, and fun. People look happy, children happily amuse themselves and have fun. Just want to plunge into their atmosphere, to be close, to put on skates and to go ahead, or to stick snowballs and play with the local kids, until it gets dark. I liked this picture also because it depicts my favorite season. I really like winter, for her snow-white outfit.