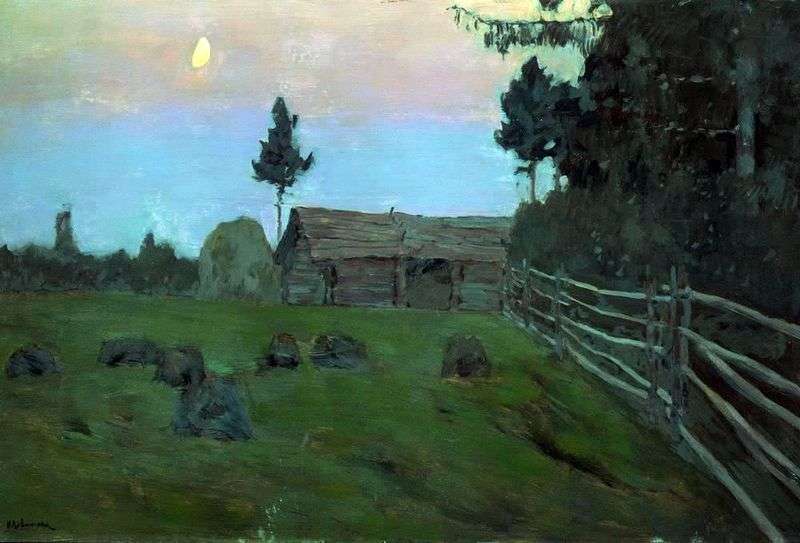 In the years 1897-1900, the artist continued to create his amazing landscapes, but only now they no longer had hope or joy. In almost all the latest pictures of Levitan there is a motive of the end of human life, of care.
It would seem that there was no longer any resentment, anxiety, or financial problems in Levitan's life. But the constant sadness, which before was the companion of the artist's whole life, giving way to external businesslike activity and purposefulness, was fully reflected in his paintings.
In the landscape of Twilight, the summer day has long ended, filled with hard
work, in the field are collected haystacks. After sunset, there is almost nothing to be seen around, the whole plot is saturated with deadly fatigue.
The motives of works created by Levitan in the last years of his life, as always, are diverse. The painter wrote again and again ravines and woods, spring distances, haystacks in the fields and village outskirts.
But especially characteristic of him in the late 1890s was the frequent reference to twilight landscapes, the image of sleeping villages, moonlit quiet nights, when "the desert hears to God, and the star with the star speaks." In such works, he achieved an unprecedented laconism of the image, the generalization of it, which allows the artist, as someone said about his late search, to "monumentalize the breath of the earth." Ivan Turgenev Spring evening 1843. Golden clouds walk Above the resting land;
The fields are spacious, dumb Glisten, drenched in dew; The brook murmurs in the mist of the valley, Spring thunder rumbles in the distance, Lazy wind in the aspen leaves Trembling with a caught wing. Silent and thrilled forest high, Green, dark forest is silent. Only occasionally in the shadow of a deep sleepless leaf will rustle. The star trembles in the lights of the sunset, Love is a beautiful star, And in the soul it is easy and holy, It is easy, like in childhood years.