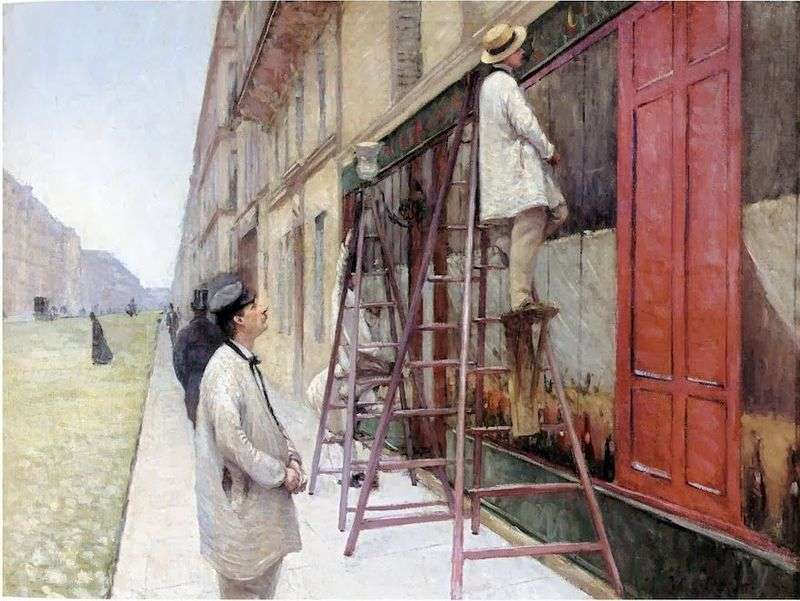 At the Impressionists' exhibition in 1877, Caillebot's painting "Painters of the Facades" was ignored, as it was eclipsed by two other bright works of the artist shown simultaneously: "The Bridge of Europe" and "Paris Street in Rainy Weather". It was they who first of all attracted the attention of critics and the public.
But in the canvas "Painters of the Facades" Caillebot shows all the characteristic features of his style. His hand can be recognized in a structuring picture of a linear perspective. The artist arranges the composition of the picture like a photograph, which is emphasized by the "cut off" figure on the middle of the thighs of a worker who pushes forward the foreground of the background.
A long pavement crosses the space, reaching to the very end of the street, defining the point of descent. Sensation of depth is really surprising. To achieve the intended effect of the perspective, Caybott sharply reduces both the height of the houses and the width of the adjacent sidewalk. This illusion of great distance, he strengthens, placing here and there a few diminishing with each plan figures.
In this canvas there are already some motifs that will be repeated in many images of Parisian streets: a man in a cylinder, a single woman, a cabman… Muted, earthy colors reflect the melancholy mood of a Parisian day. And only in the image of the facade of the store there are bright accents.