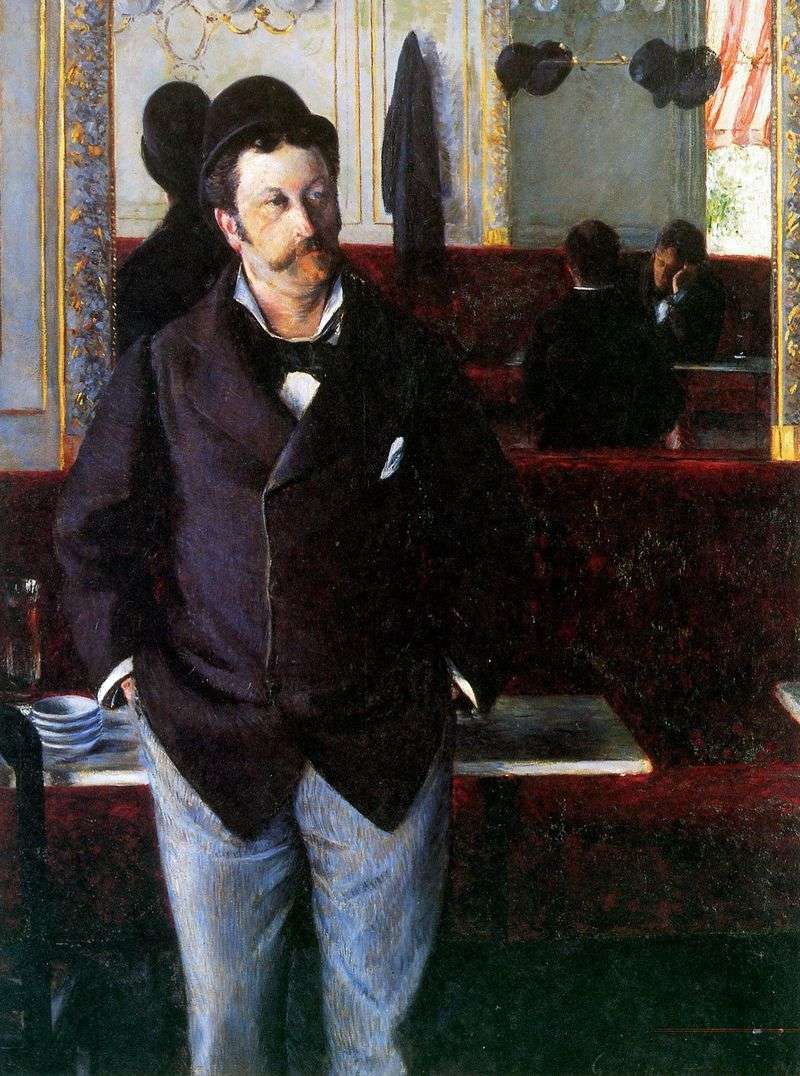 A canvas called "In a Cafe" refers to the most famous and most important works of Caillebotte. The writer Joris Karl Huysmans admires the naturalness of the image, in which it is difficult to notice "any intent or arrangement."
Indeed, the magnificent transfer of the moment is one of the strongest aspects of this work. The thoughtful, absent-minded gaze of a standing man, his loose, almost careless pose, the two characters in the background are transmitted remarkably well. Caybott, once again erasing the boundaries between the genre scene and the portrait, depicts the typical middle-class Parisian citizen of that era. Not for nothing that his painting is compared with the realistic French literature of the XIX century, and especially – with the work of Zola and Huysmans.
Constructing the composition space of this picture, Caillebot is based on a double mirror game. One frame contains three pictures, three different fields of view. The first is the figure of the man in the foreground. The mirror behind him "sends" to the second picture – the men sitting at the table, as well as to another mirror in which we see the third picture – the reflection of the glass doors of the cafe overlooking the street.
The artist offers here the viewer a kind of game, both mental and visual. Caybott's composition is extraordinarily complex, and the exact arrangement of the figures is the result of a very scrupulous preliminary preparation. In this context, the preservation of the whole naturalness of the scene testifies to the great skill of the artist.
Kirk Varnedo writes that "the changes in Caybott's work and, in general, the specific nature of the evolution of his work reflect changes in the artist's attitude toward the world, as well as his inner dialogue between the eye and thought." The continuous study of the duality problem of visual perception proves a deep awareness of the difference between reality perceived by the senses, and the reality perceived by the mind. It can be said that the dichotomy observed in Caybott's work corresponds to his deep reflections on the differences between chaos external impressions with their dispersion and fragmentation and the mind's tendency to ordering and structuring. "