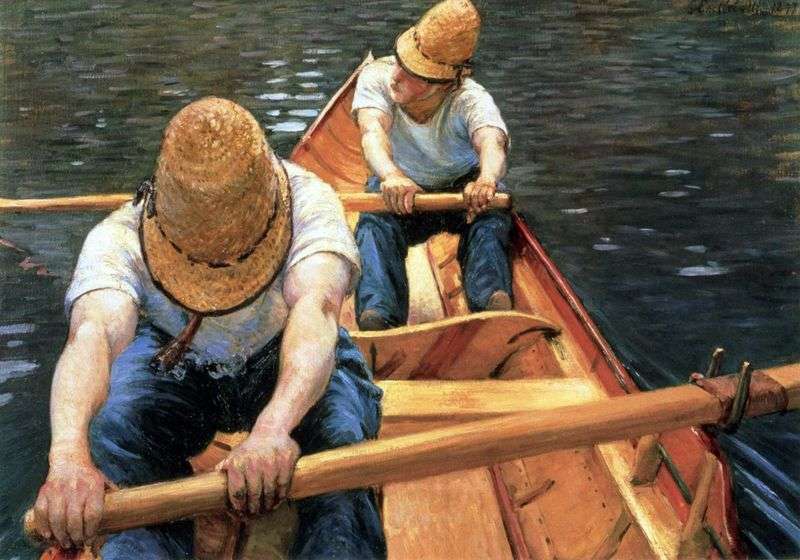 In the second half of the seventies, Cailleboot spends the summer months outside the city on the river. His interests at that time quite naturally refer to water sports, and in his work there is a new theme: rowing. From the point of view of stylistics, the paintings of this period resemble those considered above.
The artist creates a tension rarely encountered in the works of other masters between the foreground and the depth of the picture, which he particularly convincingly conveys in The Rowers. As Varnedo writes, "due to the successful illusionistic reception of the first rower's hand, it seems almost touching the edge of the canvas and stretching in our direction, like in a three-dimensional film.
This impressive movement, directed forward, corresponds to the same expressive movement in depth. In truth, this movement is as deep as the sky, as the converging sides of the boat form an equilateral triangle separated from the surface of the water, and the straight line that runs along the left foot of the first rower and directs our view to the nose almost coincides with the vertical axis composition ".
The striking tangible proximity effect that Caillebot achieves in this painting is his own masterful achievement. The artist's picturesque technique is also admirable: the reflections of the light and the naturalness of the boat's tree are very spectacular, the foreshortening of the arms and legs of the oarsmen is reduced in accordance with the strictest demand for perspective, and the calm excitement of water is conveyed by juicy, dot brush strokes that are so characteristic of the Impressionists.