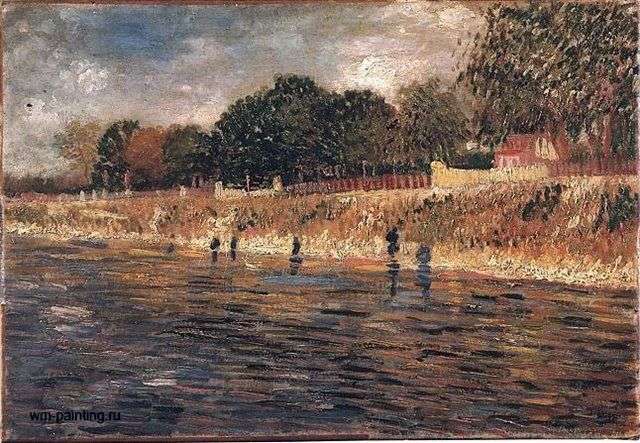 The work of Vincent Van Gogh is a bright flash in the history of world painting. Although his paintings and did not cause understanding among contemporaries, but now his paintings are very popular. In the Parisian period of creativity, Van Gogh painted the painting "The Seine Embankment".
A feature of this creative period is the change in the painter's manner of painting. He is fond of painting impressionists, so his interest in color problems and expressive expressiveness of the smear is sharply increased. The artist studies the theory of complementary colors, which was widely used by pointillists, the pastoral manner of A. Monticelli. The palette of Van Gogh at this time is filled with bright and light colors. It is in the Parisian period of creativity that he becomes a beautiful colorist. The Seine embankment conveys a harmonious combination of Parisian autumn.
The picture is written with a soft impressionistic brushstroke. The painting refers to the creative quest of the artist. Looking at the picture, we do not see that Van Gogh, bright colors and technique of performance immediately pop up in my head. This is a quiet autumn landscape, which depicts the banks of the River Seine on a warm, sunny day. The smooth surface of the river is covered with ripples. The grass has already turned yellow, the leaves of the trees are full of autumn colors of yellow, orange and green colors. The beach is lit by bright sunlight, despite the fact that a light blue sky begins to tighten the clouds.
The sky is written in thin strokes, which makes soft transitions from color to color. In the foreground, on the contrary, there are pastoral strokes that convey planarity in the picture. The airspace in the work is well conveyed. Clear color combinations of the foreground gently drown in the haze on the horizon. The painting "The Seine Embankment" is a fine example of the creative development of a great artist.