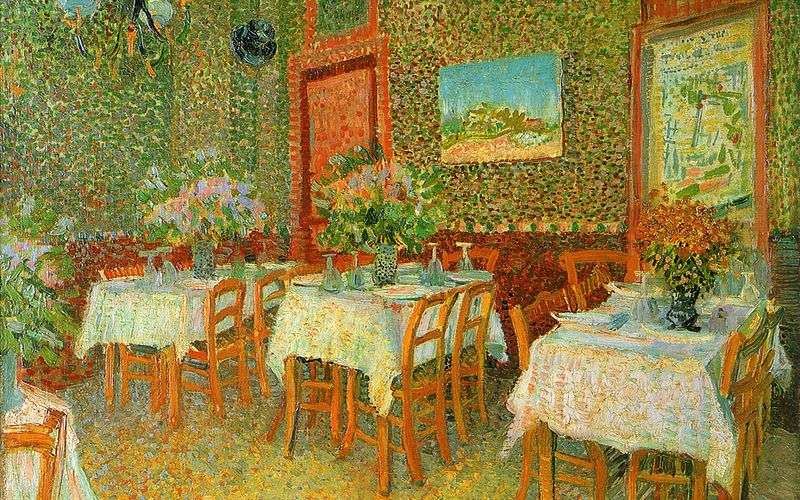 The painting "Interior of the Restaurant" was written in 1887 in Paris. This is one of the works in which Van Gogh tried to apply the innovative ideas of impressionistic painting in practice. Communicating with such masters as Bernard, Signac and Pissarro, the artist takes a great interest in the theory of decomposition of colors into pure components. The extreme embodiment of this theory was the technique of pointillism.
The entire picturesque surface of the picture is lined with tiny particles of pure colors, like bricks. Van Gogh shows a rare for his character scrupulousness, finding more and more new nuances of nature and gently putting small dots on the canvas.
Especially clearly pointillistic manner manifested itself in the image of the walls of the restaurant. Fine grains of pure flowers create a burgundy-lilac flicker on them, which seems to deprive the surface of materiality. On the floor of the restaurant, the gray colors are transferred by mixing the blue dots with the yellow ones. Due to the warmth of the shades, Van Gogh perfectly passed the sunlight falling from the windows.
It should be noted that Pointillism did not take root in Van Gogh. His temperament and general outlook did not allow to treat the work with such thoroughness and precision. However, this technique gave some impetus to the development in the future of an original manner, based on a combination of contrasting strokes of various shapes.