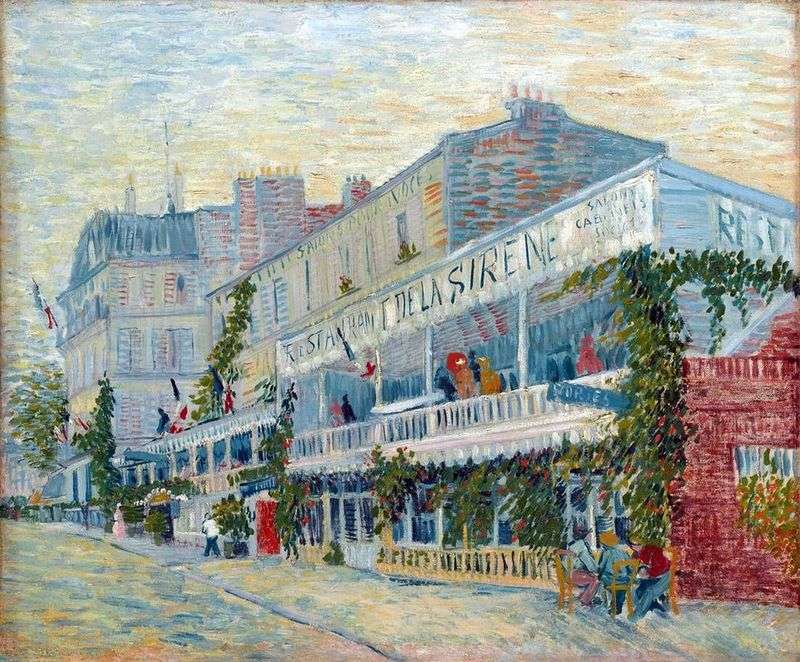 On this landscape, Van Gogh depicts the building of the Sirena restaurant in Asnieres. There are other works by the author with the image of this institution. On one of them, the most famous, the artist depicts him from the side of the boulevard. In the same picture, the artist places a wide lawn on the foreground, and the restaurant building rises in the distance.
It is possible that these two works were written in one day. Van Gogh pays much attention to the building of the restaurant, but the foreground, which has an impressive part of the canvas, remains a bit incomplete. The evening sky is painted with
blue and pink hues, which the artist does not mix with each other, but places it directly on the canvas, so that the image becomes clean and fresh.
The entire long-range plan occupies a long building, which against the background of the evening sky acquires a bluish-gray hue, contrasting with the yellowish and purple flowers of the brickwork. The tree next to it is written with scattered dots-strokes, their dance conveys an elated mood. The grass of the lawn acquires a warm shade, and the painter strengthens it, in order to convey the admiration of the natural colors of nature in contrasting combination of orange, blue and green strokes.
Van Gogh tried to accurately and reliably convey the architectural structure of the building, but the main attention is paid to the transfer of the state of nature, when the sun is already beginning its movement towards the horizon, and calmness and silence reign under the rosy sky.