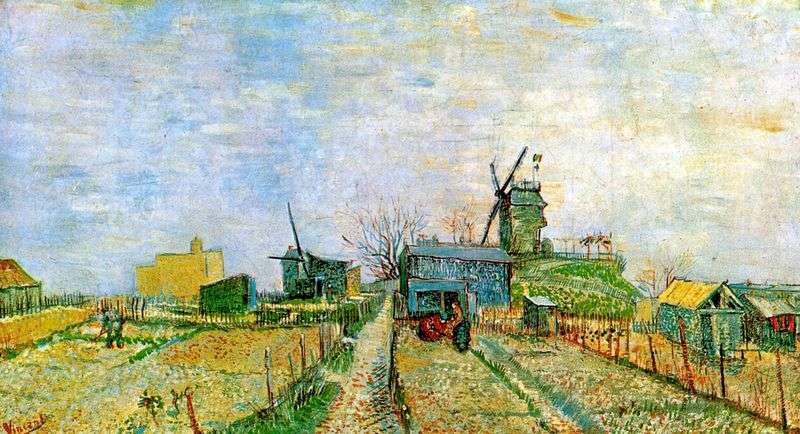 The painting was written in 1887 while in Paris. At that time, Montmartre was not yet a city in the full sense of the word. Most of it was occupied by fields and country houses, although gradually Montmartre was already beginning to become part of the French capital.
Van Gogh then portrayed a typical for Montmartre part, where the vegetable gardens were adjacent to the fields. Three mills were very popular among tourists. On one of them, the tallest, was an observation deck, from where a beautiful view of Paris opened.
Van Gogh created a very light, atmospheric and airy landscape. Against the background of a bright sky with lilac cirrus clouds, mills and roofs of houses are seen, written in shades of blue. A wide, spacious foreground is reserved for the fields. The color of the earth is very harmoniously blended in the overall color due to a combination of warm ocher colors with blue and lilac strokes.
This picture is one of the early works of the Paris period. While portraying the gardens, Van Gogh uses short strokes of contrasting shades, which indicates his familiarity with the technique of impressionism. The sky is written in a more calm, classical manner. With the help of the predominance of blue tones, Van Gogh managed to convey the airy atmosphere of a still untouched area.