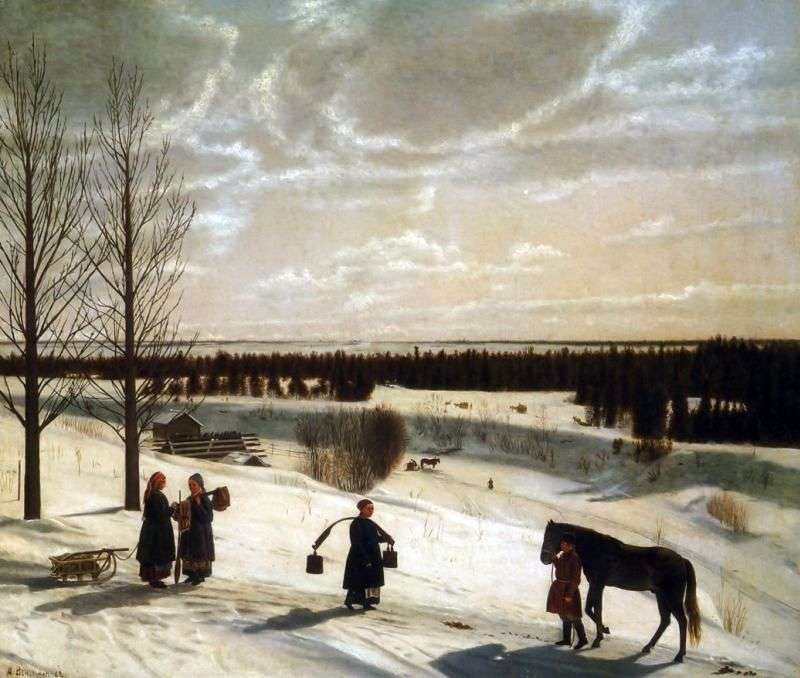 Krylov – the first student of AG Venetsianov, the artist, from which the history of the Safonkov school began. Venetsianov met Krylov in the Terebensky Monastery of Tver Province, where he painted the iconostasis with an artel of Kalyazin icon painters on the position of an apprentice. On the advice of Venetsianov, Krylov began to draw from nature and paint portraits. In 1825 he came to Petersburg, settled with Venetsianov as his student and simultaneously began to attend drawing classes at the Academy of Arts.
Nikifor Krylov's paintings are known very little, "Russian winter" –
the most significant of them. In the documents of the Society for the Encouragement of Artists, the patronage of which was enjoyed by Krylov, information about the history of writing this landscape has been preserved. When the young artist had an intention to perform a winter look from nature, there were patrons who were ready to help him in this. At the choice of Krylov's place near Tosna, he was built there a whole workshop, "giving the artist and the content throughout his studies." Within a month the picture was finished, and after its appearance at the exhibition of the Academy of Arts in 1827 made a strong impression on the audience. Working on the landscape, Krylov remained faithful to the principle, inspired by Venetsianov, "to represent nothing other than in kind and obey her alone."
The artist painted a landscape from a high bank, and this allowed him to imagine a wide panorama of the terrain. From the slope the road descends into the floodplain of the Tosna River with its banks covered with bushes, in the distance a dark strip of thick coniferous forest is visible. The painter subtly felt the state of nature on a winter day. In the snow lie blue shadows, the sky is covered with clouds, objects clearly appear on the foyer of snow. The landscape is enlivened by the figures of people engaged in everyday affairs: here are two women who met on the way to the ice-hole, where linen are rinsed, and a stately peasant woman with wooden buckets on the rocker, and a young peasant leading a horse by the bridle. The keenness of field observation is combined in Krylov with the poetic nature of the general mood animating the landscape.