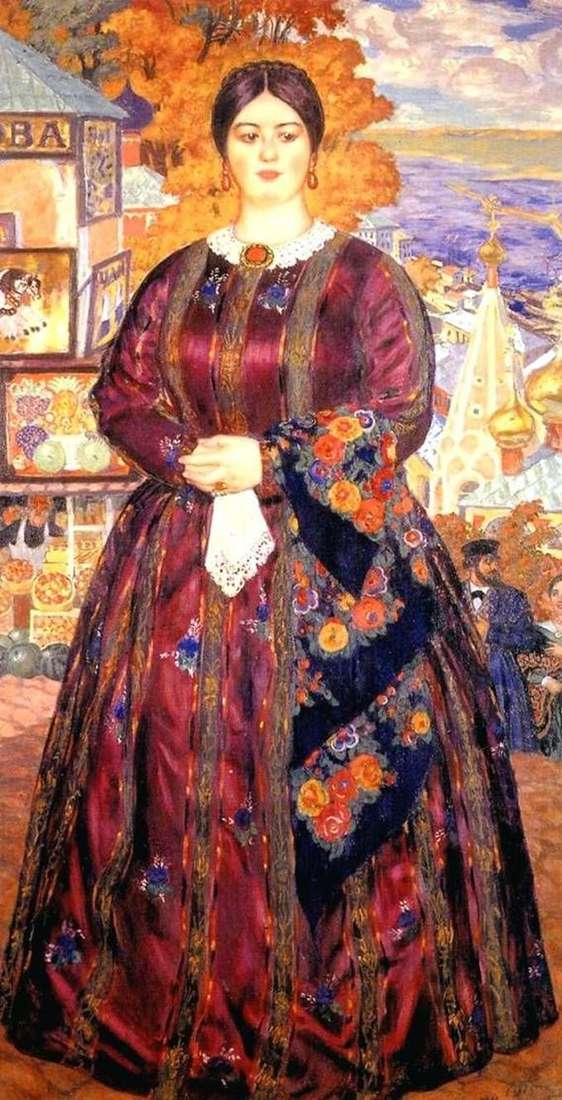 One day, walking along the banks of the Volga, Kustodiev saw a woman, beauty, to become and the greatness of which simply shook him, and the artist painted this picture.
There was a Russian landscape, which is loved by folk artists, storytellers, songwriters of Russia. Bright, as on a popular print, cheerful, as a national toy. Where else in Europe did they put so much gold on the domes, did the gold stars throw over the blue? Where else are such small funny churches reflected in the low waters like in the open spaces of Russia?
The artist took a large canvas for a picture, set the woman in height, in all her Russian glory. Over the riot of colors reigned purple and purple color. He was dressed up, festive and at the same time excited.
And a woman is beautiful, stately, like a wide Volga behind her back. This is Russian Elena Helen, who knows the power of her beauty, for which she was chosen by his wife as a merchant of the first guild. This is a waking sleeping beauty, standing high above the river, like a slender white-trunked birch, the personification of peace and contentment.
She is wearing a long, iridescent silk dress of an alarming purple color, her hair is combed in a straight parting, a dark tied braid, pear earrings glisten in her ears, a warm blush on her cheeks and a shawl decorated with patterns on her arm.
It fits just as naturally into the Volga landscape with its colorful and spacious space as the world around it: there the church and the birds fly and the river flows, the steamboats float, and the young merchant couple walks – they are also admired by the beautiful merchant.
Everything moves, runs, and it stands as a symbol of the constant, the best that was, is and will be.