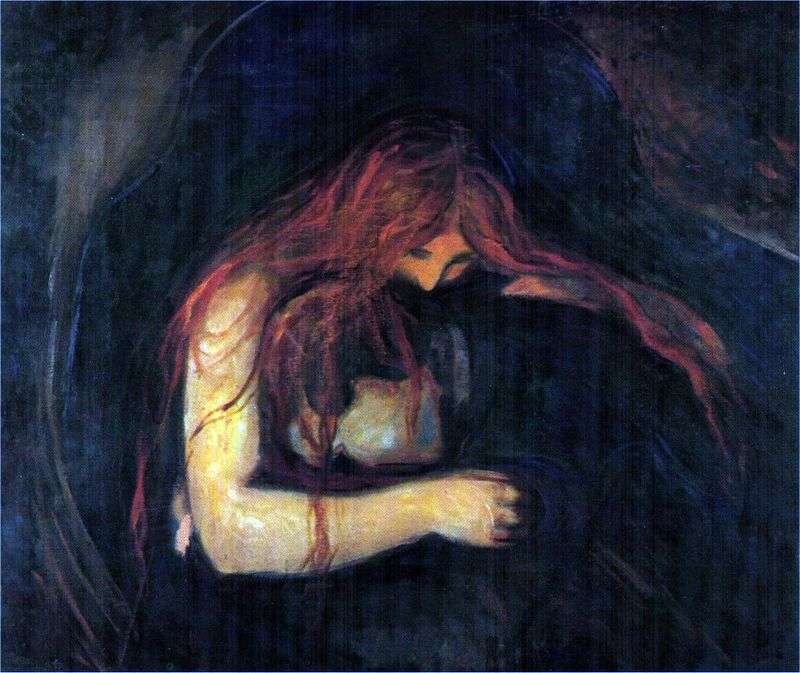 Painted in 1893, the painting "Vampire" is included in the "Frieze of Life" cycle, on which the master worked in the years 1890-1900. On the basis of it, Munch will show up several dozens of engravings – the image of the main character will seem so "colorful" to him. In general, the "Frieze of Life" cycle, as the master himself wrote, "is a poem about Life and Death, Love and Hate, Happiness and Grief, Peace and Fear". One of Munch's friends, the witness of all the stages of the creation of "Vries," recalled that the artist had invented the composition "Vampire" in a few minutes, and had realized his idea "in just a couple of days."
On the occasion of the presentation of this picture in 1896 in the Parisian Siegfried Bing Gallery, writer and critic August Strindberg publishes an article in the June issue of "La Revue Blanche", in which, trying to stir up public interest in the master's picture, he leads several lines of his own "white" verse Compositions: "Golden rain of hair falls on the unfortunate diabolical grace in the face of a beautiful vampire. But is he unhappy? Or did he pray her for this last caress – the caress of a deadly bite, to feel the unsteady line between life and non-existence? What is p ki blood, suffering and death, compared with a sweet feeling – even if momentary – what you love and love? ".
Strands of golden hair symbolize, as in Strindberg's article, as well as in Munch's painting, the bonds that bind lovers. They cover a man who is pressed against a woman's chest, sucking blood from his neck. This scene is the embodiment of an ambivalent view of a woman as a being desired and dangerous, which was especially popular with the symbolists of the end of the XIX century. The red hair of a woman attracts the viewer's attention, but cannot distract him from thoughts of the victim; a man seems to be isolated from the outside world, more precisely, he seems to dissolve into nothingness – Munch emphasizes this by merging his dark clothes with the background of the picture.