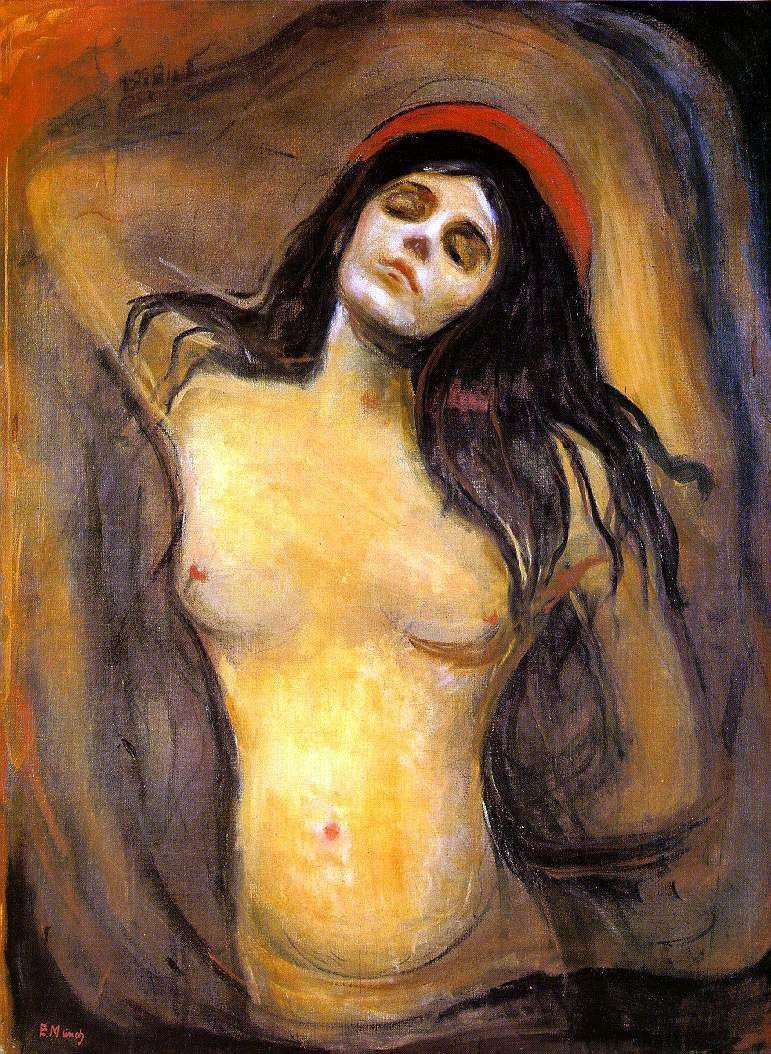 Nude young woman with flowing black hair, eyes half closed in ecstasy. Such a Madonna saw the Norwegian painter Edvard Munch. With a canonical image, only one detail has it in common – a nimbus of an unusual bright red color, shining over the head of a beautiful woman. At one time, this work was recognized as scandalous and made an ambiguous impression on critics and the public.
The goal that the artist set himself when starting to work on the canvas was to show the human beginning and the earthly greatness of the Virgin Mary, trying to bring her image as close as possible to the image of a mere mortal woman.
To achieve this, Munch wrote five versions of the picture and a lithograph of the same name. Each of them, according to the artist's plan, was to show the main stages of a woman's life cycle: conceiving a child, the birth of offspring and death.
Presented canvas – the first version of the "Madonna", also known as "Conception" and "Loving Woman". Conception, as the first stage, is represented in the picture by the pose of the woman, the smooth bend of her body, and the underlined rounded belly. The dark palette of colors, the artist's conviction in the inseparable connection between love and death and the belief that after the birth of a child the function of a woman is fulfilled, reveal the last, third stage of the female life cycle – death. The second – the birth of offspring – Munch reflected in the lithograph of 1895, where in addition to the female silhouette was depicted a small figure of a little man in a fetal position. According to the beliefs of critics, it is the first version of the canvas that is not burdened with details that amazes with true depth and skill.
The figure of the Madonna is surrounded by light and is full of magical inner radiance. As in other works of Munch, there are no straight lines – only soft wavy rays. A modest set of shades – yellow, purple, white and red – meets the intimate atmosphere of the picture.
"Madonna" Munch wrote with Dagni Yul – the wife of the writer S. Przybyshevsky and his friend, she was a muse and many other contemporary artists of the Norwegian expressionist.
Versions of the scandalous "Madonna" are now stored in the Munch Museum, in the Kunsthalle in Hamburg and in the National Museum of Art, Architecture and Design.
In 2004, together with the famous painting "Scream", "Madonna" was stolen from the Munch Museum in Oslo. Two years later, the paintings were returned, but because of the damage they were not shown for the next two years, while restoration work was being done.