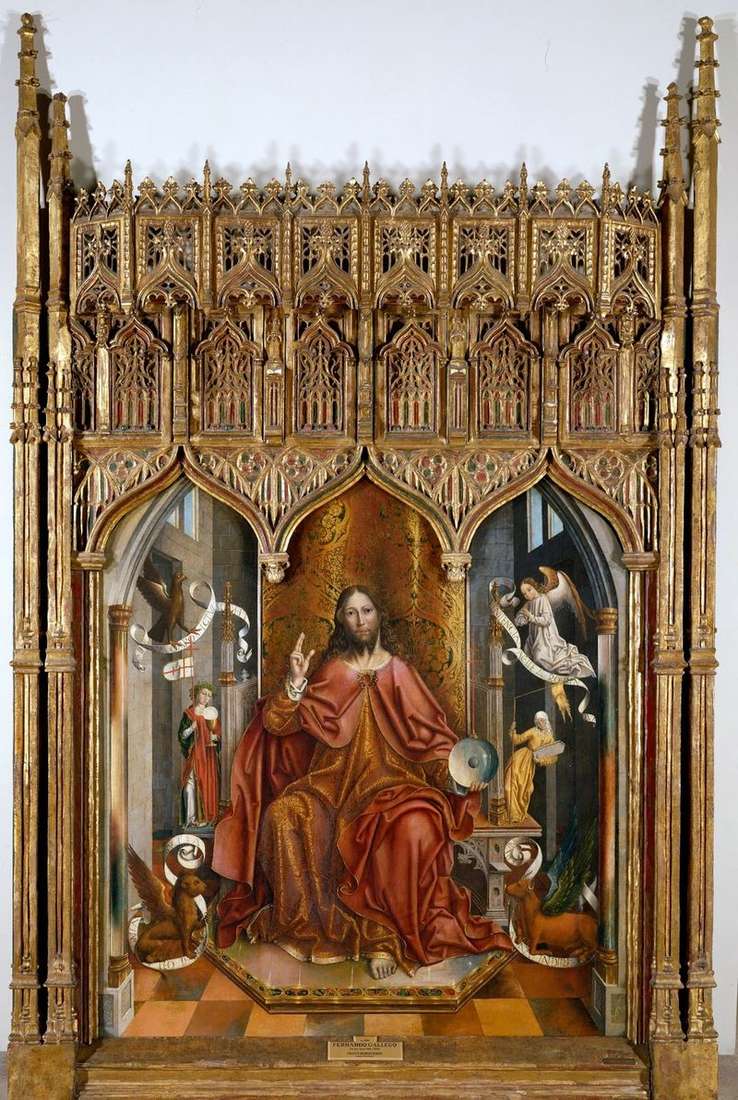 "The Blessing Christ", like many Spanish paintings of the late fifteenth and early sixteenth centuries, made a long journey before taking its rightful place within the walls of the Prado Museum. It is known that this work was the gift of Pedro del Castilla of the Church of San Lorenzo del Toro. Since Don Pedro died in 1492, respectively, this gift could not be served after this time.
An artistic analysis of the work says that the painting was written between 1480 and 1490 in the period of Gallego's maturity. Although the artist sought to stay in the Gothic traditions when interpreting the image of Christ, as evidenced by the Gothic arches of the apertures, allegorical figures and the whole color range of the work, his picturesque manner bears the imprint of the influence of Italian and even stronger Flemish masters. And at the same time it is certainly a Spanish work, although it is not known where and from whom the artist studied.
Jesus Christ is seated on a throne, surrounded by allegorical figures, in the depiction of which Gallego invests the refined symbolism. The Savior is depicted in scarlet robes, forming multiple, almost sculptural folds. His right hand is raised in a blessing gesture, and the left holds a transparent crystal ball with a high cross, at the feet – mythical winged beasts.
The Catholic church is depicted as a beautiful young woman in a wreath holding a chalice with communion. It rests on the staff, which crowns the cross and the pennant waving on it. The synagogue, on the contrary, is a nervous, broken figure in a yellow dress. It rests on a broken staff with a yellow pennant. Above their images on the one hand – an angel with prayer folded hands, and with another eagle.
The color of the work is dominated by shades of red and gold. Cold airways with allegorical figures even more draw our attention to the complete rest of the image of Jesus Christ. According to the catalog of the exhibition "Golden Fleece", held in Brussels in 1907, the work was kept then in a private collection, in 1913 this work was purchased by Pablo Bosch and presented it as a gift to the Prado Museum.