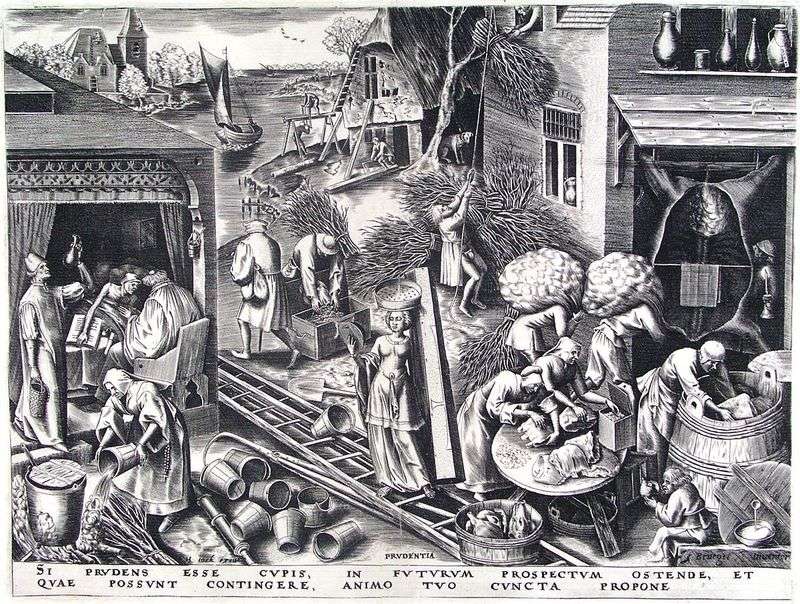 The text in Latin under the engraving "Prudence" reads: "If you want to be prudent, be careful in the future, think in your heart what can happen."
A woman standing on the thin bars of the ladder, symbolizes Prudence. The main feature of Prudence is foresight, therefore it rests on a coffin. A sieve adorning her head helps to separate the seeds from the chaff.
Foresight also tries to show the participants of the seven scenes that play around and symbolize crafts. But is their wisdom prudent? The nun, preparing food, is only busy pouring fire. The patient does not care about the salvation of the soul and the last sacrament, but about the opinion expressed by the doctor examining the bottle in the urine. To the right is a family engaged in pickling meat for the winter, and among the adults there is a boy hiding a coin in a nibbled pear.
In the center there are two people who have not solved the eternal problem, what is better: to carry money with you or keep it in a chest, spend it or take care of it? Many are preparing for the winter – they store firewood, repair a dilapidated house, shearers are dragging bales of wool. In the distance a boat with cargo is floating.