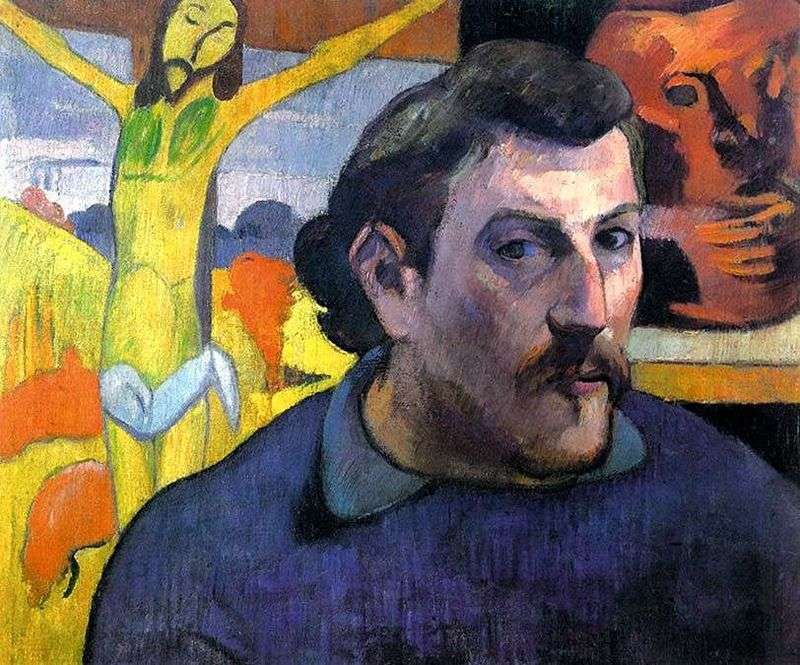 Already less than a year after the creation of his famous "Yellow Christ", Paul Gauguin again refers to this topic, writing a self-portrait against the backdrop of this philosophical picture.
Studying the work of the master you can notice his relentless pursuit of a new interpretation of the usual genre, by combining and mixing various stylistic features. In this series, it is enough to recall his still life with the profile of Charles Laval or the self-portrait in the style of "Les Miserables" by Hugo.
Self-portrait with the Yellow Christ can be attributed to the work uniting
the genre of self-portrait, everyday scene and religious painting.
Researchers of Gauguin's life and creativity point out that many of his self-portraits, especially those that exploit religious subjects to varying degrees, are a kind of allegory that demonstrates the soul's loneliness and inner torment of the painter. Gauguin often portrayed himself in the image of Christ, and in this work he settled down beside him.
Here Gauguin's face is stern and focused – attentive eyes, narrow beard, mustache. The spectator involuntarily begins to compare the face of the artist with the face of Christ in yellow, finding thus obvious similarities.
As it is on impressionistic, to leave slightly subtle hints and double perusal! And now, looking at this self-portrait, many can see the hidden implication – the impressionist artist is doomed to martyrdom and the wandering of aka Christ.
As usual in Paul Gauguin's painting, a bright palette, the predominance of pure colors and a clear line. This desire for decorativeness and color with the passage of time will only intensify, especially in exotic Polynesian canvases.