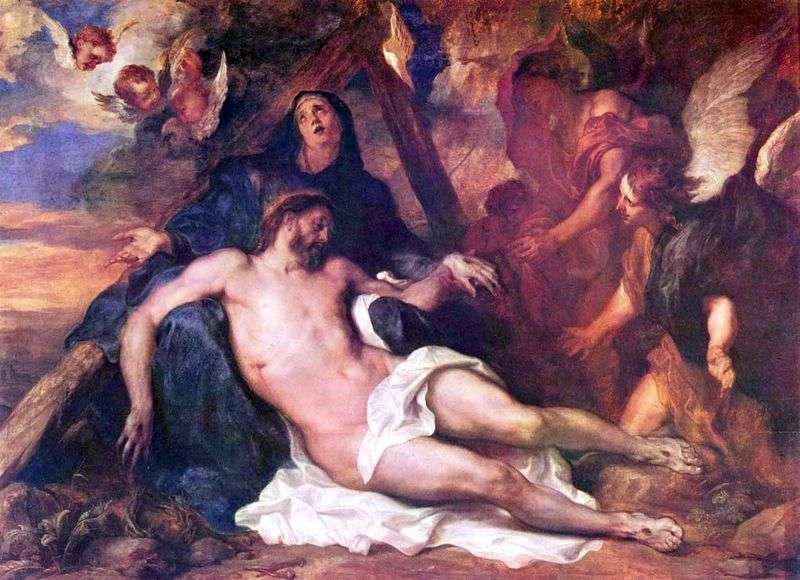 All the evangelists say that when Jesus Christ died on the cross, his disciple, a rich man named Joseph from the city of Arimathea, went to Pontius Pilate to ask the body of the deceased on the cross of Christ.
Pontius Pilate agreed, and Joseph lifts the body from the cross. He and another secret disciple of Jesus Christ, named Nicodemus, prepare everything necessary for burial according to the Jewish custom: Joseph buys a clean linen shawl in order to swaddle the deceased, and Nicodemus brings the composition from myrrh and aloe, "a liter about a hundred", to to bathe his body. They are in a
hurry: Jesus Christ was crucified and died on Friday.
The next day is Saturday, according to the Jewish calendar, a day of rest, when something is forbidden, so the deceased must be buried on Friday until the appearance of the first evening star. The artist depicted the moment when the crucified Christ was removed from the cross and placed on a previously prepared shroud. The muscular, dead body of Jesus is powerless on the Mother's arms. She raised her eyes to the sky in prayer for her son. And angels were already bending over the body, ready to take Jesus Christ to heaven.