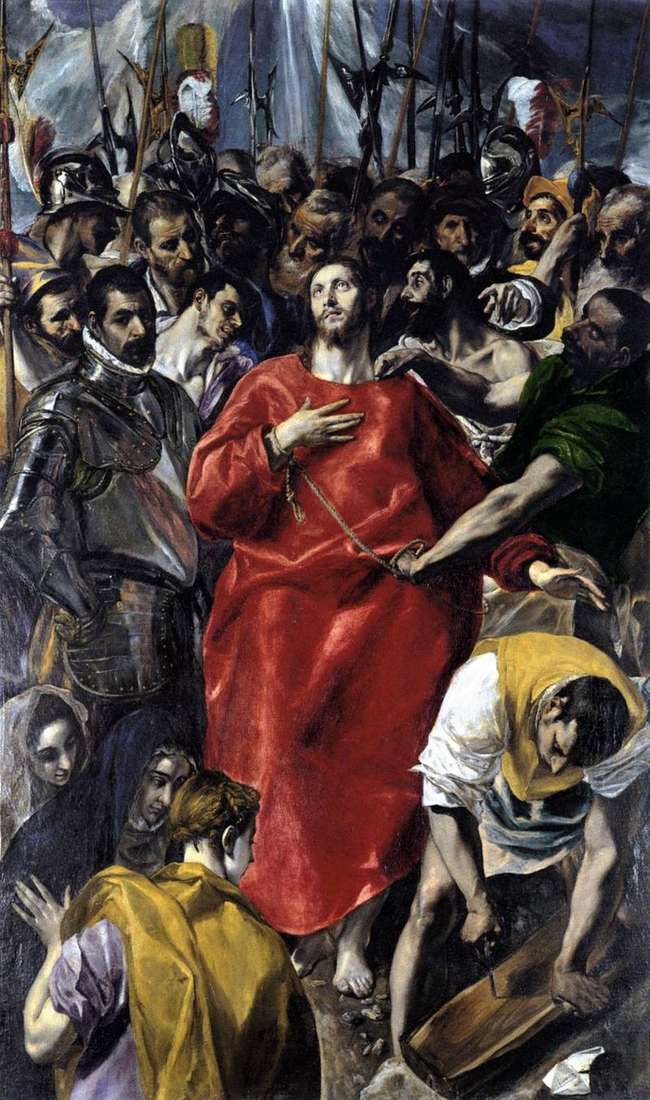 A dramatic picture of the Spanish artist El Greco "The removal of clothes from Christ." It depicts the moment when, before the execution, soldiers rip off clothes from Christ. This plot was extremely rare for that time, as the artists most often depicted the stories "Taking Christ in custody", "Crowning with a thorns crown" and "Flagellation of Christ". It is interesting that this motif here is indicated only by the gesture of one of the soldiers, touching the hand of the chiton of Christ.
El Greco focuses on the image of a common tragic sense of the inevitable death of Christ. People react differently to what is happening. To the left of Christ is the figure of a pensive warrior who, at the time of Jesus' death, exclaimed: "Truly God's Son was this!" The crowd that filled the top of the composition is overwhelmed by low-lying passions. Characters come out of the gloom with a messy movement of copies, glints of metal helmets. Among them – two robbers, surrounded by a curious crowd. On their skewed with suffering and pain, faces are horror and despair.
Against the backdrop of this worried, disturbing crowd stands out the suffering and exalted face of Christ facing the sky. Perhaps, this is one of the most memorable and inspired images of Christ in the work of El Greco. Undoubtedly, before us is the image of a perfect Man. But his destiny is predetermined in advance: next – commanders in shiny armor and soldiers, ready at any moment to tear off the scarlet from Christ. Look at his stupid expression, muscular strong hands, and you will understand that he is only a passive performer of another's will.
On the left in the foreground are the Virgin Mary in a blue dress and two accompanying women. They look with horror at the executioners, who are knocking together the cross for execution. Not seeing that Christ is going to tear off clothes, they are fascinated as they look at the weapon of the future execution, the mechanical work of a soldier who prepares a cross for crucifixion. Beautiful blond Mary Magdalene tries to remove the Mother of God from this terrible spectacle. All the feelings and thoughts of a woman are turned toward the future, which very soon will become a tragic present – the martyrdom of Christ.