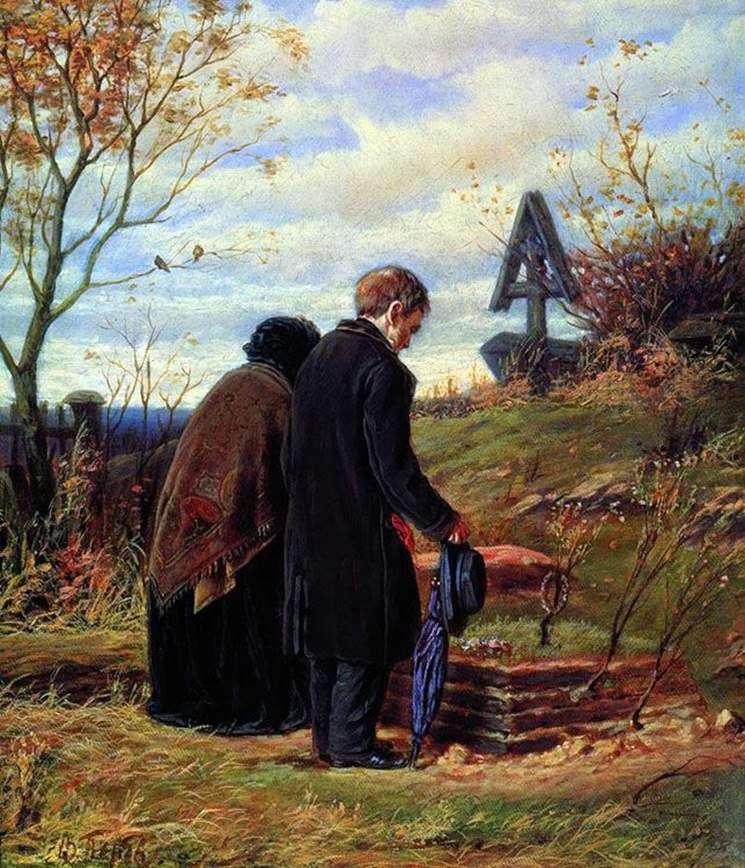 In the traditional Russian realism for himself, Vasily Grigorievich Perov in the second half of the 19th century finishes work on the picture "Old Parents at the Grave of His Son". In the opinion of many people and even critics, the picture can be considered a heritage of Russian painting. Perhaps the plot of the canvas was taken by V. Perov from Turgenev's famous literary work, Fathers and Sons.
The very plot of the painting is very simple and at the same time sad. In the center we see an elderly couple in front of the grave of his son. It is impossible in any words to convey the sadness
and longing that gripped the elderly. What could be worse for parents, like the death of children.
In color terms, too, everything is very simple and clear. Life apparently goes on. Blue sky is covered with white clouds. Green grass becomes yellow. On the trees yellowed leaves. Looking at the picture, it seems that a gentle breeze rages. And only against the background of nature are two black and bent from the grief and years of the figures of the parents. The author draws all the fine details of the old men in great detail.
Looking at this picture, you understand that you should not look for the beautiful in majestic stories, plots, stories. All the most beautiful and extraordinary in everyday life. Life consists of such moments, which are simply sometimes impossible to convey. How much joy and pain, happiness and grief brings life. And this is all we experience every time, without even thinking how great it is. Perhaps it was precisely this that Perov wanted to convey to us. Show us how amazing our simple life is and we need to appreciate every passing moment. Because it is not eternal. Do what you want. Say what you feel. Otherwise, it may be too late.
To date, the picture of V. Perov "Old parents on the grave of his son" is in the place of honor in the Tretyakov Gallery. Anyone wishing to admire this piece of art.