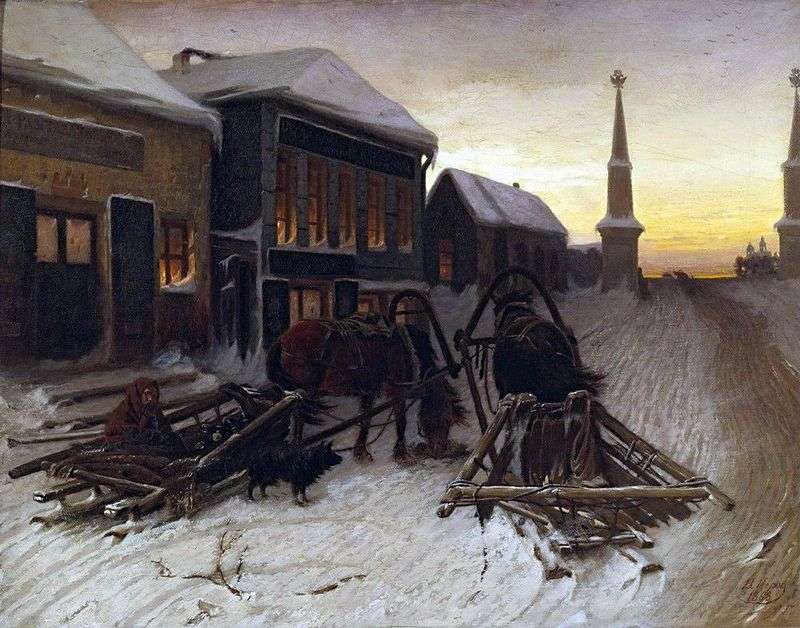 All the work of Vasily Perov is always connected with his inner morality. According to the recollections of people close to him, the painter was worried about social inequality, his soul sharply responded to injustice, and besides, he put the man and his inner world, his morality at the center. "The last tavern at the outpost" is exactly the work that raises these perennial issues – the moral choice and its price.
On the canvas we see a tavern, in the windows of which a bright light burns. At the threshold of the kabak, a sled with horses harnessed and on one of them, a frozen woman sits
wrapped in a headscarf. This is probably the wife of one of the revelers, who came to have a little fun. To the right of the two-storied, inconspicuous structure, the road stretches into the distance to the high spire of the church.
In the composition of the picture, the combination of the church and the kabak is not accidental for Perov. In the winter cold, a frozen person can warm up only in two places – a pub and a church. In this case, the first, associated with the master with debauchery, den and a nursery of human vices, a place playing on human weaknesses. Unfortunately, the viewer sees where the travelers decided to warm up – their sleigh stopped here, meanwhile the road to the church is deserted. The fact that it is not the only visitors and the place is popular is evidenced by the numerous traces of the sledge runners – the marks turned the snow into loose mud.
The work is dominated by gloomy tones, illuminated only by flashes of windows. But this light is kind of prickly and wicked. The sky in the picture is low, gray and desert, which further emphasizes the feeling of hopelessness and even helplessness. The viewer here will not find a single hint of satyr or the loud protrusion of defects with the aim of eradicating them, on the contrary, the canvas appears as a sad statement of facts. Perov humbly represents the moral vices of his society, he kind of throws up his hands – this is how Russia is, ordinary, backstage, hopeless. And with this eloquent silence, Perov conveys much more emotion to the viewer than if his works "screamed" about evils.
Today, the painting "The Last Tavern at the Outpost", quiet and accusatory, is exhibited in the Tretyakov Gallery.