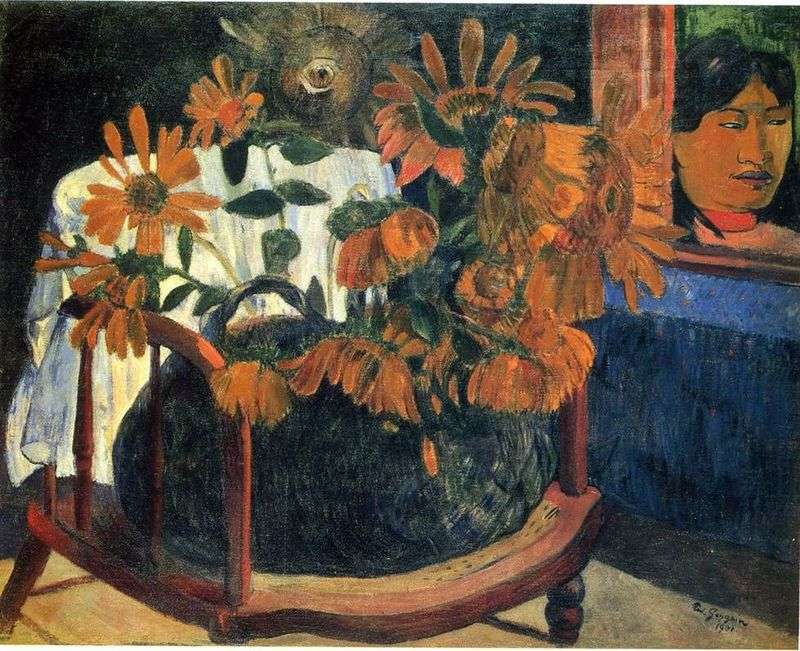 Impressionists were especially fond of sunflowers as a subject. It is enough to recall Claude Monet and Van Gogh.
Gauguin began to write sunflowers at the end of his life and career. Although the wonderful yellow flowers already flashed on the author's early canvas, however, it was due to one of the sad and bitter pages of the painter's life. Even a young but already formed artist, Gauguin was friends with Van Gogh. The two greatest artists settled together in Arles, dreaming that their new home would become a haven for young painters, innovators.
Especially for a new comrade and like-minded person, Van Gogh created a series of paintings with sunflowers to decorate Gauguin's room. However, the tandem did not work out, Gauguin was almost crippled, and Van Gogh moved to a shelter for the mentally ill. From the former promising friendship only remained a picture – "Van Gogh, painting sunflowers."
And in 1901 Gauguin again turned to this plot. After all the searches and aesthetic experiments, it seems that the author returns to the beginning – the still life looks almost classical. However, non-traditional elements are still present in the work, otherwise it would not be Gauguin. The black-haired head of the native in the window makes the story unusual, while the girl's complexion almost merges with the color of the flower heads.
It is impossible not to pay attention to the very image of flowers peeping out of the baggy basket. It is neither bright joyful flowers, full of life and sunlight – Gauguin gave them a different interpretation here. Almost all heads of sunflowers are lowered, petals on them grow rarely, the bouquet itself seems to fall apart in all directions. From flowers, unbearably weary, weary, lethargic. They seem to act as a translator of Gauguin's state of mind, which in the last years of his life was especially difficult.