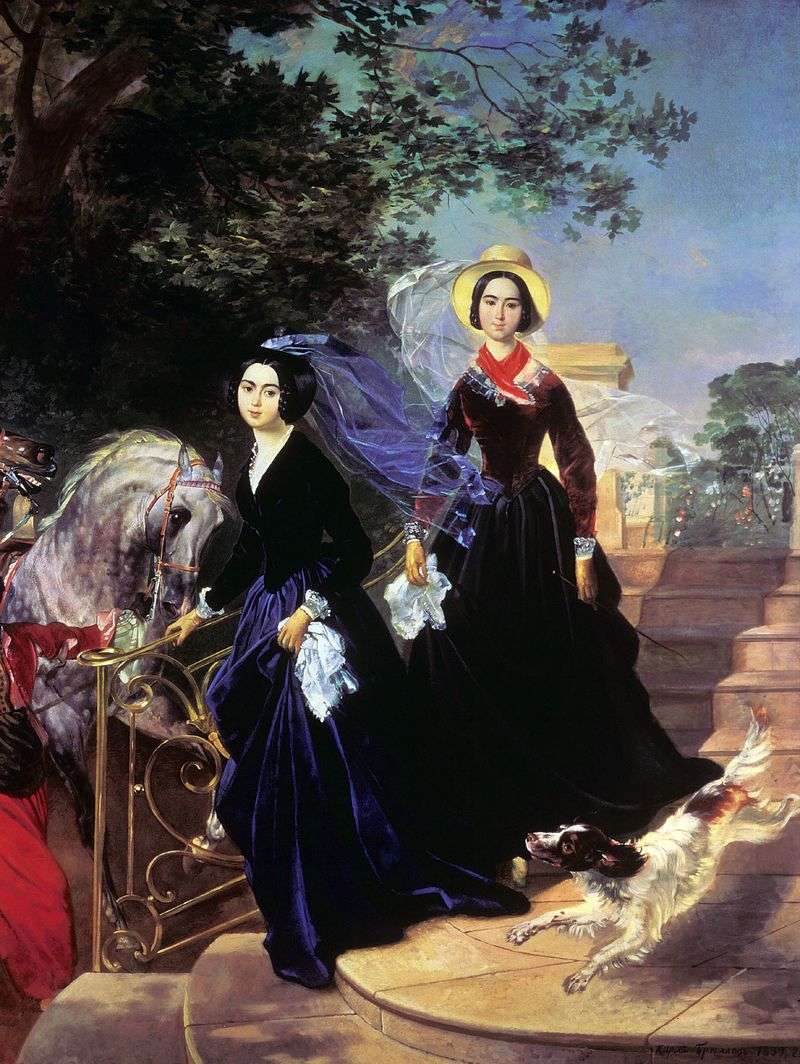 Beginning to write a new canvas, Bryullov always viewed his work not as the execution of an official order, but as a portrayal of acquaintances and people pleasant to him. The representativeness of the large canvas had to dissolve in an atmosphere of warmth and lyrical softness. Alexandra Afanasyevna and her sister Olga have been attached to art since early childhood. AF Shishmarev, a theater lover and a friend of artists, often had actors and musicians at their father's house.
In his Petersburg estate, Shishmarev built a summer workshop for Kiprensky, in which he painted a portrait of an amiable host.
Twelve years later, when Kiprensky was no longer alive, and the glory of the "Great Karl" rattled everywhere, Shishmarev asked the artist to write his daughters. Briullov was extraordinarily capricious in his orders and more than once refused people influential and famous. Being kind of deeply artistic, the artist felt constrained when he took on official orders and wrote to people he did not like. Acquainted with the same sisters, he could not help but appreciate their charms. They were similar and different from each other.
The elder – seemed more open and free in conversation, her movements were graceful. Junior – seemed more restrained, angular, like a teenager. Both of them were making music, drawing well and, like everyone in their house, are passionate about art and literature. In the group portrait Shishmarev Bryullov again violated the conditional framework of the ordered canvas. His content, he reduced to a kind of genre scene, the plot motivation for which was a walk. This motive allowed to depict the figures of the girls in motion. The girls were ordered costumes for riding, especially for the picture, because they were not carried away by horses. … Sisters Shishmareva, dressed in Amazons, descend smoothly and rhythmically down the steps of the wide staircase.
The excited horses hardly restrain impetuous holes. The stage is completed by a shaggy dog running for young girls, an ordinary participant of large group portraits of Bryullov. Graceful and slender is the older Shishmareva, who attracts with her sweetness and grace the movement with which she holds the Amazon. Next to her, the younger sister seems to be frozen. The composition solution of the portrait was found by Bryullov in pencil sketches. Avoiding the monotony in the depiction of two female figures presented in growth, he already in preliminary sketches placed them at different heights, justifying his reception with ledges of the staircase.