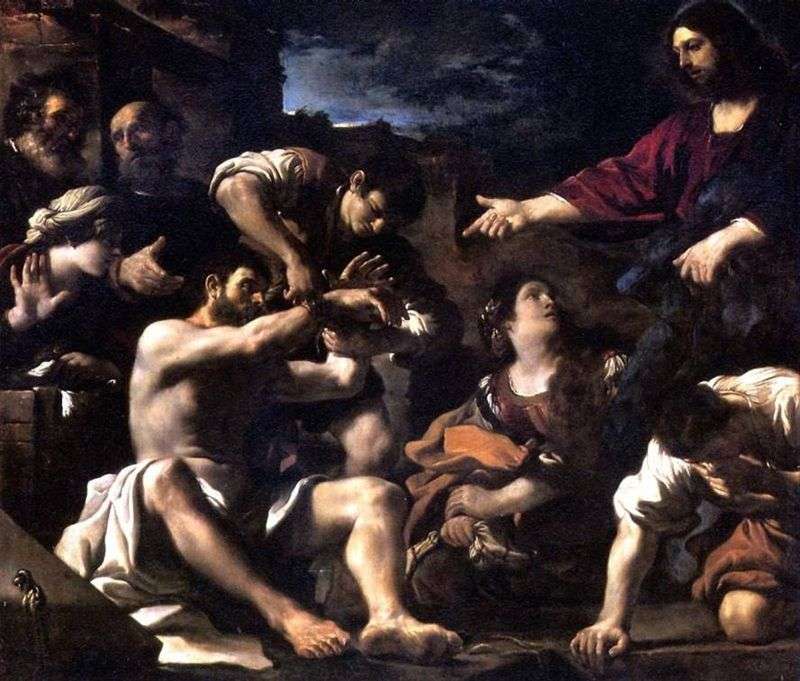 Guercino is one of the most outstanding representatives of Bolognese academism of the first half of the 17th century. The artist studied under L. Carracci, worked in Bologna, Venice, Rome. In 1642, after the death of G. Reni, the artist headed the Bologna Academy.
The painting "The Resurrection of Lazarus" was performed in the initial period of the master's creative development, when his aesthetic principles, based on the achievements of the art of Northern Italy, differed from the principles of academic aesthetics. The painting is written in a typical manner for Gverchino in this period
of temperamental, dynamic, expressive painting, with sharp cut-off contrasts and a bright characteristic of nature.
Later, after returning to Bologna, Guercino style under the influence of G. Reni's works changed. His painting acquired a cold academic character, a great severity of lines, the correct calm black and white modeling. Other famous works: a plafond "Aurora". 1621 – 1623. Casino Ludovisi, Rome; "Burial of St. Petronly". 1623. Capitoline Museums, Rome; "The Ascension of Mary". The Hermitage, St. Petersburg; "St. Jerome and the Angel". The Pushkin Museum. A. S. Pushkin, Moscow; "Martyrdom of St. Catherine". The Hermitage, St. Petersburg; "Hagar". 1657. Gallery of Brera, Milan.